Creating and launching Facebook promotions is really not difficult. But launching successful Facebook promotions does take some key ingredients.
We have been helping small businesses create and launch outrageously successful Facebook promotions that not only gain followers and fans but also allows you to follow up and have sales from entrants for years to come.
Unlike our competitors, we will share the secrets of launching successful Facebook promotions.
Be it daily deals, coupons, sweepstakes or contests, when you are finished reading this post, you will understand the best way to create, launch and manage your small business Facebook promotions.
Here are 11 tips for launching outrageously successful Facebook promotions.
Tip #1: Choose Your Promotion
There may be some who say you should run more than one Facebook promotion at a time. We equate that with multitasking which has been proven not to work.
We suggest you run 1 Facebook promotion so you can manage and track the results. Promotions you should consider are:
Sweepstakes

Photo or video contests

Great coupons

Daily deals
Just choose 1. By doing so, you can give it your complete attention and you will be able to track the results much easier.
Tip #2: Enter All Rules, Restrictions And Other Important Information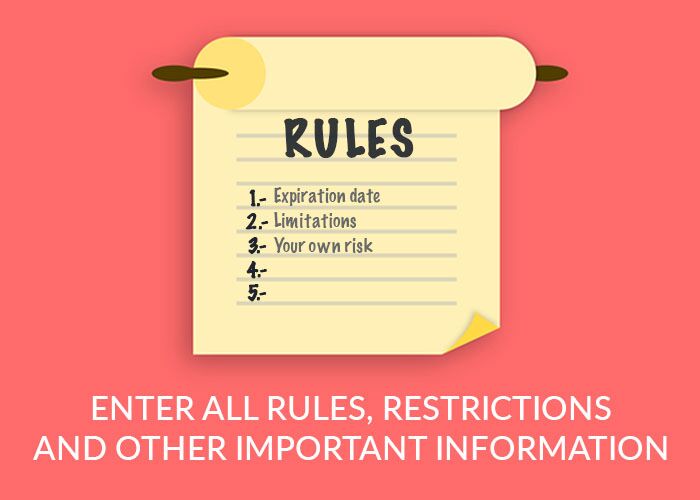 The first order of business is to read and understand Facebook's terms in running promotions. Facebook does change their terms at times, so it is important that you understand the rules before you create and launch your Facebook promotion. These can be found in the Facebook Guidelines.
Some key terms on that page are:
If you collect content and information directly from users, you will make it clear that you (and not Facebook) are collecting it, and you will provide notice about and obtain user consent for your use of the content and information that you collect.

You must clearly and prominently disclose any restrictions on your offer (such as expiration date or limitations on redemption).

The official rules.

A complete release of Facebook by each entrant or participant.

We will not assist you in the administration of your promotion, and you agree that if you use our service to administer your promotion, you do so at your own risk.
These are just a few. Review them all.
The Rules
So you need to write a list of rules and restrictions where it can be seen by all before entering. You should also have a paragraph about the prize and how it is awarded.
It is okay to link to a terms page if it would take too much area on your promotion page.
Tip #3: Title And Post
The title of your Facebook promotion should be short and attention grabbing. Something like:
Your photo could win a $100 gift card – Enter To Win!

Sign Up Here To Enter The Weekend Cruise For 2

Will Our Judges Choose Your Video For The Prize? Enter Here!
And you then write an enticing post explaining the promotion. Make sure your text is completely understandable to cut down on questions.
But, you will have questions! So ensure you answer all questions on a timely manner.
You may even consider attaching a link to a FAQs page.
Tip #4: Use An Image Depicting The Prize Or Promotion

It has been shown by statistics that images grab the attention of Facebook users quickly. Using that "grabby" title along with an amazing image will surely pull the attention of Facebook users.
Some image ideas could be:
A picture of the prize. Be sure that the image you use is not someone's copyrighted image.

If the prize is a gift card, you could design an image with the gift card amount in large font.

You may consider an image of a previous winner.

If you are promoting a coupon, you could design an actual paper coupon.
Remember that images are a prime attention drawing method.
Tip #5: Collect Contact Information
Most people will not purchase a product or service the first time they hear about it. This is why many small businesses use a newsletter format to educate potential customers and keep them aware of their brand.
So when running a Facebook promotion, it just makes good sense to have entrants fill out a simple form supplying you with their name and email address.
Forms can be developed using many custom fields. So if you want to get more data, you can ask for age, city, etc…
You can also include a file upload field when you are running a photo or video contest or anything where the entrant would supply a file.
Now it is also smart to include a link in the form to the rules and restrictions that we mentioned in tip #2.
Not sure how to develop a Facebook contest entry form? We can help.
Tip #6: Always Include Share Buttons
On your Facebook contest or sweepstakes page, you should always include share buttons. And not just Facebook share.
If you add share buttons for:
Facebook

Twitter

Google+

Linkedin

Pinterest

Instagram

and others
You will have many people sharing with their friends, family, and followers. Make sure and also promote it on social networks you belong to.
It also helps to submit the promotion to various contest websites where you can submit it for free. Some examples are:
You will get more people signing up. Just make sure the rules and regulations are clearly defined.
Tip #7 Put A Banner On Your Website
You may have people who are stumbling around the internet happen upon your website. They may not even know about your Facebook business page.
So it just makes sense to have a banner on your website that draws them to your Facebook promotion.
Designing banners can be quite easy. Many people have used the free website called Canva to design banners.
You will just want to link the banner directly to your Facebook promotion once it is installed in your website.
Tip #8: Run A Facebook Ad
It makes wise business sense that you run a Facebook ad promoting your Facebook promotion.
You can target your ad to various demographics such as:
Age

Location

Gender

and more
This can garner more likes and followers and will draw people who may have never seen your Facebook promotion.
Facebook ads are quite reasonable and after you create one, Facebook will tell you the estimated reach of your ad.
Tip #9: Track The Data
Keeping track of the data is an integral part of running a Facebook promotion. Knowing how many new likes you get, email sign ups and shares will help you know how well the promotion is working.
While it may be difficult to measure sales statistics, you can be sure that if all other numbers rise, sales revenues should rise too.
When Vionic sets up a promotion for you, we also provide some statistic tracking.
You will also want to use Facebook Page Insights which can help you know likes, new fans, comments, and shares. This will help you see how your Facebook promotion is effecting your Facebook business page.
To monitor the attention your Facebook promotion is getting around the internet, we suggest using Google Alerts. This will monitor whenever your promotion is mentioned on the internet.
Tip #10: Promote Even After The End
After you discover how well your Facebook promotion did, you will probably want to run another promotion soon. But before you do, you can add extra "flavor" by posting various results from this Facebook promotion. Maybe:
An image of the happy winner

A video of the final drawing or judges determination

We also suggest making everyone a winner who entered the promotion…

A free eBook?

Maybe a nice discount on their next purchase?

Or a coupon?
Just use your creativity and find a way to promote the Facebook promotion even after it has ended.
Tip #11: Set Up Follow Up Emails

The primary objective of running that great Facebook promotion was to gain followers and get their contact information.
Don't let that follower forget about you and your brand.
You should have an email follow up plan.
Let them know that your Facebook promotion is not the only great thing your business offers. Solve their problems using your products or services.
Keep in touch and you will gain a lasting customer.
A Few More Tips
Heavy Promotion As The Promotion Nears The End
We suggest you set up some cool posts to let people know when your contest has
Only 24 hours left… Get your entry in now!
12 hours before we give away (prize)
Only 1 hour to go… Will you win?
Some people are procrastinators. These posts on various social media outlets will remind them.
Make Sure The Prize Is Target Customer Appealing
If you give a generic prize, you will get sign ups from people who are not in your target market.
Make sure your prize is more enticing to that target market and you will draw the people who will stick around and become customers.
Develop A Custom Hashtag For Your Facebook Promotion
When you use a custom hashtag, you encourage entrants to signify their entrance by sharing using that hashtag. By doing so, it can create a "buzz" and your hashtag may go viral.
When people search for trending hashtags and see yours, they will be more apt to see what the craze is and you will gain more entrants, which will become followers, and may possibly become customers.
Make Sure Your Facebook Promotion Is Mobile Friendly
Your Facebook promotion may look great on that laptop or desktop computer, but have your reviewed it on a mobile device?
A large percentage of internet users now do so from their tablets and smartphones. You want to make sure that your promotion looks as good on mobile as it does on regular computers.
Make sure and test it before publishing it.
Conclusion
We know that once you run that first Facebook promotion following the tips we just gave you, you WILL be amazed at the results.
You will be ready to run another one soon after.
Now running a Facebook promotion does take development time. It can be quite profitable. We have mastered the art of creating high-quality Facebook promotions.
Just see how we have helped other small businesses here.
Do you have any questions?
Did you receive value from this post?
Please leave your questions or feedback below.
Thank you.
Oh and by the way… Be sure and get the free eBook we are offering: The Ultimate 10 Step Guide To Tripling Sales Using Facebook.
Use it and grow your business huge!
The Vionic team wishes you a great day!