Valentine's Day is just around the corner. Your customers will be looking for ways to show off their love to that special someone. But how important is it for small businesses to focus on this time of year?
Consumers spent $17.3 billion on Valentine's Day gifts last year, according to the National Retail Federation. That's revenue that you can't afford to miss out on! It was also revealed that men spent almost twice as much as women did.
One of the world's largest online retail marketplaces, Rakuten, conducted a Valentine's Day Shopping Secrets Survey in 2014.
Here are some of the results:
Men spent an average of $104 on Valentine's Gifts
Women spent an average of $45
People spent $154 for fiancés
People spent $136 for spouses
People spent $118 for boyfriends/girlfriends
58 % of respondents were single
68 % of respondents had a bad breakup
34 % like chocolate, fast food, and snacks to get over a breakup
Men want:
Kisses
Hugs
Chocolate, wine & food
More of their partner's time
Women want:
Kisses
Hugs
Flowers
Jewelry
Chocolate, wine & food
For more details, you can head to their site for the full survey.
This info should give you a feel for what your customers are looking for. Place yourself in the shoes of the customer shopping for his girl/boyfriend. Think of the customers who are getting over a bad breakup and need a product that will comfort them. Don't neglect singles on Valentine's Day! They need love too!
Check out these businesses Facebook campaigns for some heart-pumping ideas:
1. Valentine's Day Wish List
Did you know that 86 % of men gave the wrong gift for Valentine's Day?
What could have helped these clueless shoppers is a handy wish list.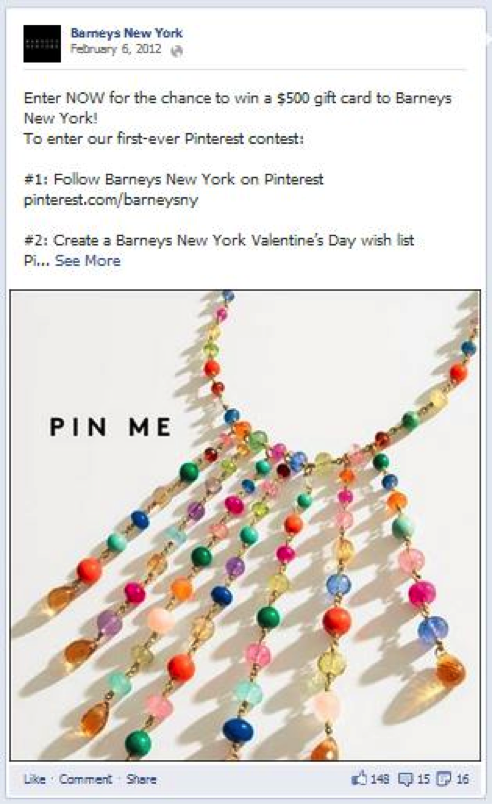 Barneys New York asked Facebook customers what their Valentine's Day wish list was. Followers were to find their favorite items from the Barneys website and pin those items on a Valentine's Wish List board on their Pinterest page. At least five items had to be from Barneys to qualify.
The best board received a gift card to the store. All of the participants now have a wish list that they can share with their Valentine.
This is a fun activity for followers and could work for any small business.
Try asking your followers what their wish list is and see what they come up with. The answers will determine what your hot test selling items are as well as what would make a great prize for the contest.
2. Timeline Trivia!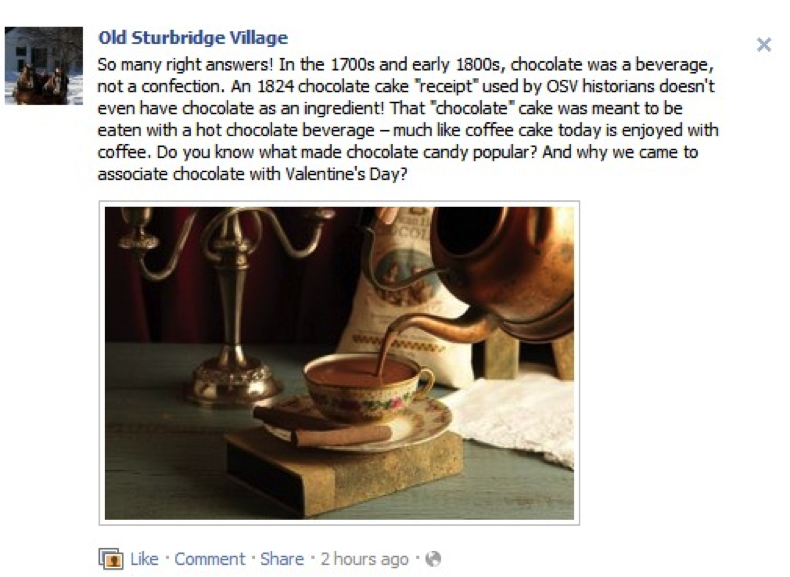 Who doesn't love a game of trivia?
Old Sturbridge Village is a museum in Massachusetts. They asked the perfect trivia questions to relate to Valentine's Day and their industry. Not many people would know about the dietary customs of the 18th century but many people love learning about chocolate!
Make your own leaderboard on your Facebook Page to narrow down the top three scorers after a set number of trivia questions have been answered.
You could also select multiple winners from a pool of the people who were quickest to comment. Just keep the questions related to Valentine's day and your business.
3. Product Photo Contest 
This is a great example of a Facebook photo contest that captures user generated content implemented by AOR Supplements.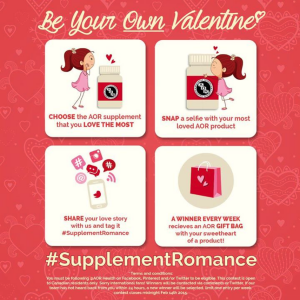 AOR is encouraging customers to share a photo with their favorite product and tell a related story. They get social promotion for the business and more insight into their customers.
However, the extra step of sharing a love story adds a barrier of entry for this contest.
You can leave out the call for story-telling and focus on the customer selfies.
That way, the contest appears approachable and visually appealing.
4. Timeline Comment Contest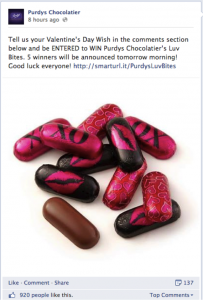 Who wouldn't want to participate after seeing this tempting picture of chocolate?
Purdy's Chocolatier held contests that encouraged their followers to comment on their Valentine's Day wish. Winners were selected randomly.
Tailor this to your business by asking how customers would use your product if they won a free sample. Don't forget a picture of the prize and details on the judging process.
Let them know that the winner will be showcased on your Timeline and they can provide a picture for that purpose.
5. Match-Maker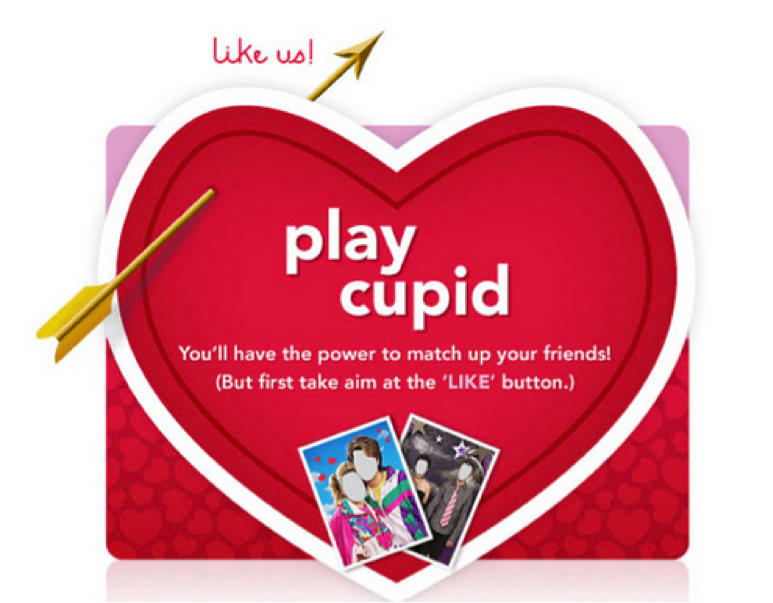 Walgreens got into the action with a fun "Play Cupid" campaign where people selected two people they wanted to match up. The recipients received coupons after their images were finalized.
Here's a Timeline verson of Walgreen's game you can run on your Facebook Page:
1. Post a photo tell fans to tag two of their friends in a comment section.
2. Everyone who participates gets a free coupon.
3. The comment with most Likes wins a bonus prize!
They also could have used other campaigns like sweepstakes or deals to be more effective by capturing emails to enter.
6. My Valentine Photo Contest
This is where followers post photos of themselves with their pets, kids, boyfriends, girlfriends, or husbands and wives. Choose a winner and give them a prize that two can share. Spa gift cards for two or tickets to a show would be appropriate gifts.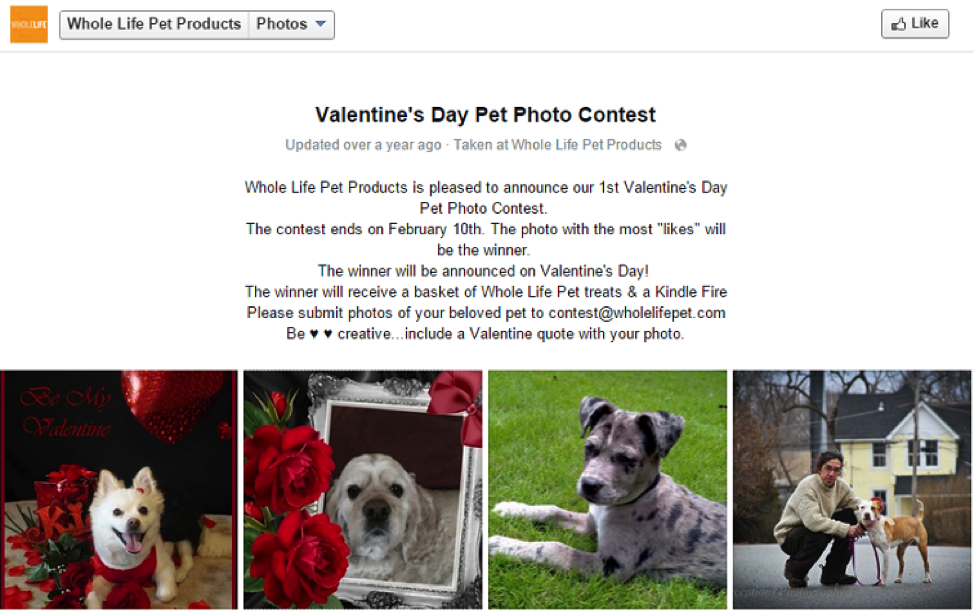 Look at all the cute pet photos! Hundreds of people "Liked" this contest and it generated many comments too.
This photo contest idea is perfect for promoting a pet-friendly product.
Notice that they chose the photo with the most likes as the winner to get people sharing the content.
7. 'Saucy' BOGO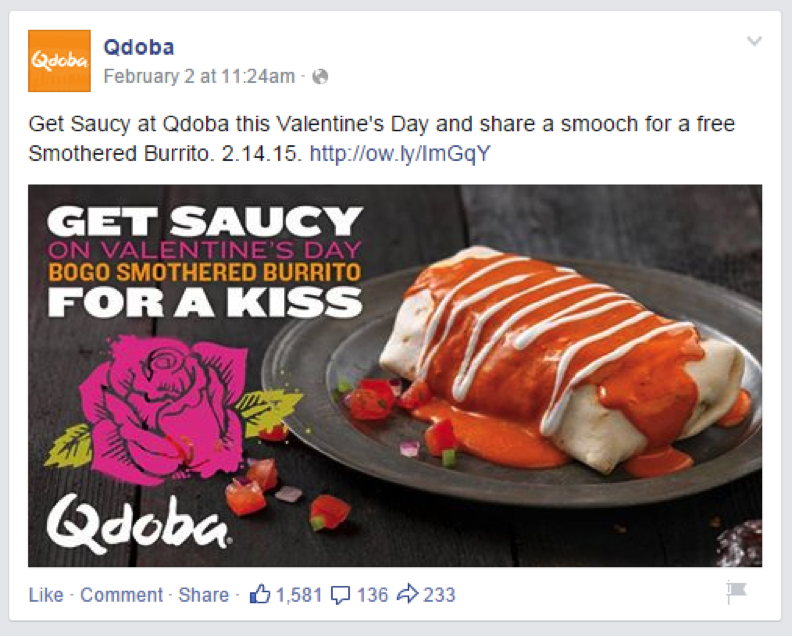 You've never seen BOGO like this before!
Qdoba is running a promotion where customers can buy one smothered burrito and get one free if they share a kiss with a loved one, friend or willing stranger.
This got a lot of people talking on their page with over 1,000 Likes, 136 comments, and 233 shares!
The best part is that they're feature a certain product that got a boost in popularity while encouraging people to buy it and try it. A regular "buy one, get one" promotion would have been lackluster, but they kicked it up a notch for Valentine's Day.
Notice the creative use of the word "saucy" and the creation of a rose graphic to lend a sense of romance.
8. Favorite Valentine's Day Decoration Photo Contest
All of those crafty followers finally get to show off their best homemade Valentine's Day decoration.
This also gives you insight into the personalities of your customers. You might want to give prizes to multiple winners since these submissions were made by hand.
9. Valentine's Day Video Contest
There are many aspiring filmmakers out there.
And these days, anyone with a smartphone can record their favorite moments in a snap.
You can tap into that desire to create a comedic first date on camera and make sure they use one of your products in the video.
Have post their video to your Facebook page and call for fans to vote on the submissions. May the best video win!
10. Story-telling Contest
Ask your fans to share their memorable love stories:
How did you meet your girlfriend/boyfriend or spouse?
What was your first date?
What's the most romantic thing someone has done for you?
What's the best advice on love you ever received?
Give the top Liked comments a coupon to your business right on Facebook!
11. Romantic-themed Quizzes/Fill-in-the-blanks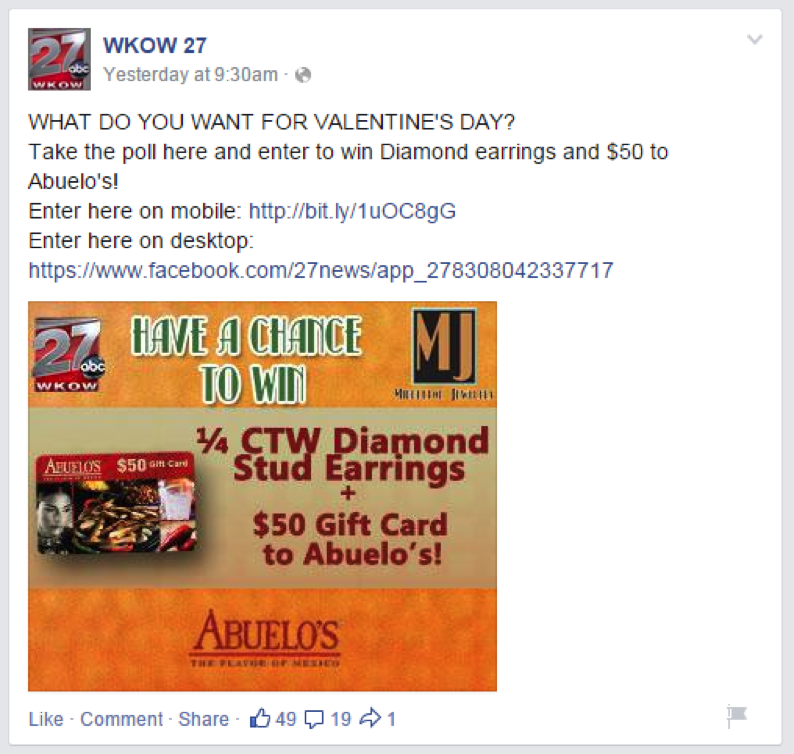 The news station WKOW 27 created this fun giveaway aimed at people looking for a Valentine's gift and a date night!
The winner will be selected from everyone who filled out a simple form and answered the poll.
It was a smart move for them to partner up with local businesses like Middleton Jewelers and Abuelo's Restaurant, creating a sense of community to be shared with followers.
All you need to do for a quick contest idea is to think of a Fill-in-the-blank status update with romantic themes. Then you can choose who wins from the most liked comment or from a random selection.
The best love song ever written was _____. Tell us your favorite love song for a chance to win!
My favorite movie to watch with my Valentine is _____. Tell us what you watch on Valentine's Day to be entered into the contest!
The most romantic date I've ever been on was _____. Share some details about your dream date for a chance to win.
12. Donations
This year, Boston Pizza is creating heart-shaped pizzas and donating a portion of the sales to Boston Pizza Foundation Future Prospects, which benefits mentoring programs for youth. For every Peel 'N Win heart, two dollars go to the foundation. They expect to make 65,000 heart-shaped pizzas.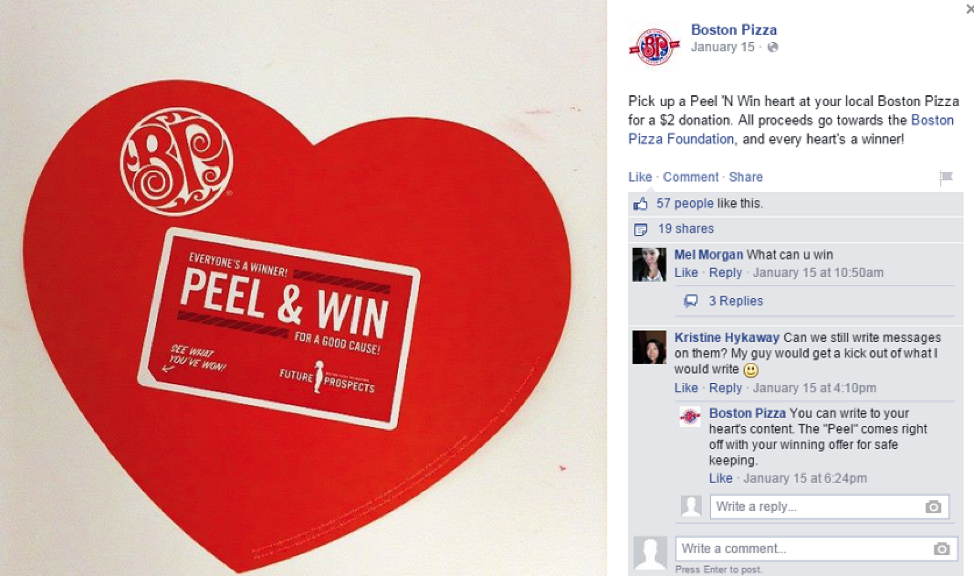 Also, Boston Pizza took the time to answer questions! Check out the comments and the customer asking about writing messages.
Instead of saying "Yes you can write on them," they wrote "You can write to your heart's content." They demonstrated excellent customer service while staying in the Valentine's mood.
If you want to show affection toward a charitable cause, there are many ways to do so. Donate a portion of the proceeds from a specific product or service to a local charity.
Nothing shows a bigger heart than that and your followers will see a softer side of your business.
Bonus Off-line Valentine's Day Ideas:
For brick-and-mortar locations, you can get as festive with you want with Valentine's decorations and in-store displays. Take advantage of your space and create the Valentine's experience they can't get online. Check out these tips:
1. Sweeten Your Valentine's Day sale!
Your customers will thank you. Remember to send out emails beforehand to spread the word.
Pull out the posters and display stands to advertise outside the store. You can offer discounts for anyone wearing pink or red as well.
2. Show Some Love to Your Employees
Put up employee Valentines in the break room or acknowledge them on social media to let them know they are loved as well.
These employees will feel a sense of connection to the business and are more like to deliver high quality service.
Wish them a happy Valentine's Day to get into the spirit.
3. Host a Valentine's Day Party!
Invite singles to come for a mixer and dance the night away. Include Valentine-themed displays for people to take selfies next to and they will share it with all their social media accounts.
This is the perfect place to for a giveaway that customers won't forget.
4. Giveaways
Set out a basket and collect emails for a special Valentine's giveaway. You can post about it online and in-store for more foot traffic.
Choose a gift that makes sense for customers who are in love.
5. Create a gift basket
Choose a few products that go together and use red or pink ribbons. These baskets create value for the customer that are visually appealing.
This will help out those last minute shoppers who want convenience wrapped up in a bow.
Think of how to include family members like Grandmas, Dads, Sisters, and Cousins. Target the people who don't get much attention during this holiday. The possibilities are endless!
6. Dry Erase Board
Write "I Love _____" on a dry erase board or chalkboard and let customers fill in the blank.
Another idea is to have a place where couples can write their names in hearts like when you see "Harry + Sally" carved in a tree.
You can also use the space to promote your Facebook contest.
Wrap-Up
All of these campaign ideas give you a chance to maximize profits, increase followers, and promote your business. Use this Valentine's Day to be an extension of the appreciation for your customers and the experience you can provide them. Spread the love and have a happy Valentine's Day!