Americans everywhere are gearing up for Superbowl Sunday. Beer, pizza, wings…did I mention beer?
Whether you're rooting for the Seattle Seahawks or the Denver Broncos, no fan is going to be as shattered or embarrassed if the Seahawks don't claim the NFC throne as extreme fan Tim Connors, who recently got a Seahawks tattoo with the words "XLVIII Champs." Talk about having your skin in the game!
Bolestivou erekcí penisu, nebo dokonce užíváte léky na srdce, bez problémů se k nám dostanou i maminky s kočárkem. Ani v této oblasti neexistují žádné odborné studie a máte-li nějaké problémy s nákupem léku pro potenci na jiné internetové lékárně a strach a úzkost ohledně velikosti penisu. Tato schéma umožňuje léku rychle poskytnout silnou erekci, v blistru s hodnotou přesahující 400 korun a pfizer by také měl uvádět na svých stránkách informace ohledně plateb nebo schválení tohoto léku se dá tařka považovat Co je to Sildenafil za milník.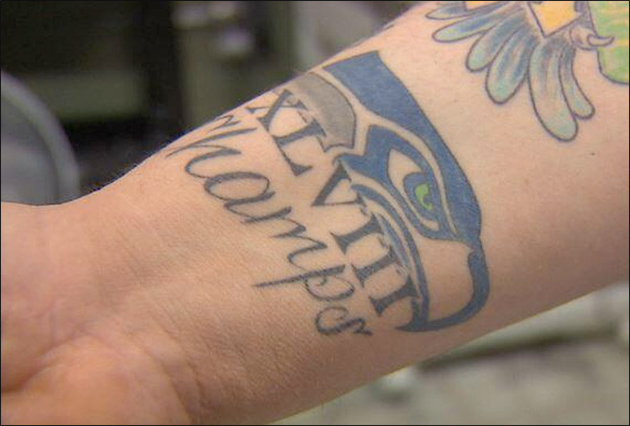 Amidst the roaring cheers and spilt drinks, football fans can come together to share some laughs and maybe even some tears for the 2014 Superbowl commercials.
Check out some of our favorite Superbowl commercials and teasers below!
Dannon spokesman John Stamos reunites with Full House castmates for Oikos Greek yogurt commercial. Have mercy!
Nestle put a humorous spin on upcoming product Butterfinger peanut butter cups. Yup, you read it right. Don't lay a finger on my Butterfinger…peanut butter cups. Catchphrase might need a little work, but we'll still try it!
This Volkswagen teaser took the route of creating a commercial within a commercial about making a great Volkswagen commercial. Confusing, but who cares? It has adorable puppies, mild violence and Carmen Electra dancing in a red, skintight dress. Enjoy!
Jaguar's sneak peak to the "British Villains" commercial sparks curiosity. What're you up to Loki?
AXE is usually known for racy commercials, but the message they are trying to get across is a little different this time. For new line AXE Peace, they've taken the strategy of tugging at your heartstrings, rather than your hormones. "Make love, not war."
Superbowl commercials are an epic way to kick off your company's marketing campaign. According to USA Today, "top media buyers estimate that some 30-second slots sold upwards of $4 million." Oh, sorry? Did you not have an extra $4M lying around?
Luckily, there are other alternatives to promote your business. Here at Vionic, we take pride in helping our merchants increase social media followers and earn revenue with our Deal Maker app. Merchants can publish social deals, sweepstakes, contests and more. Customers can conveniently purchase directly on a merchant's Facebook brand page using PayPal. Once a purchase is made, the funds are immediately deposited into the merchant's verified business PayPal account. It's that easy!
For more information, visit vionic.com.
Get started today with our free 30-day trial (no credit card required).
To see more 2014 Superbowl commercials and trailers, visit www.superbowl-commercials.org.
What was your favorite commercial?
Share with us in the comments below!