This IS an urgent message!
Do we have your attention small business owner?
On a daily basis, we work with many small businesses using Facebook. While we were reviewing how they have used Facebook in the past we have noticed some glaring mistakes.
Yes, mistakes happen. We have all made mistakes and we will again. But it is great when we can catch potential mistakes before we commit them by learning from others.
While there are many mistakes made on Facebook by small business owners, we have determined 5 ultra-damaging mistakes that will kill you on Facebook.
There is a good chance that as a small business owner, you are likely making one of these mistakes.
You have the freedom to control your Facebook business page and your small business the way you want. But if your goals are revenues, profits, customers and a good small business reputation you should hear us out.
The mistakes we are about to list can kill all of those goals.
Now if at the end of this post, you have any feedback or questions, feel free to post them. After all, our ultimate goal is to help all small business owners gain success. So just take a close look at these 5 potential mistakes and determine if you are allowing any to kill you on Facebook.
Posting On Highly Controversial Subjects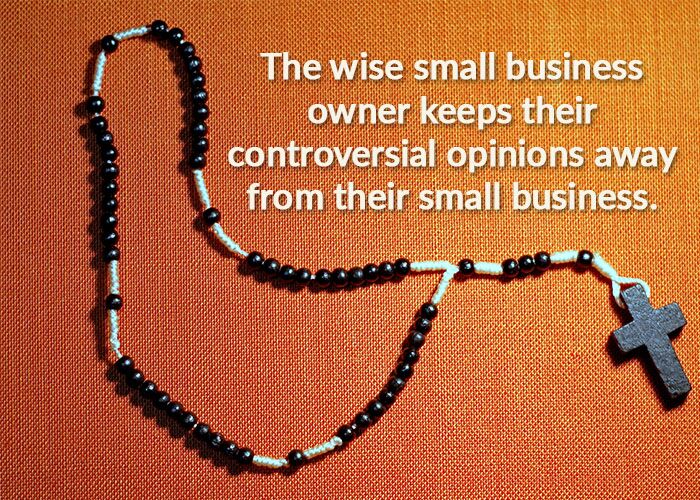 Just posting this mistake is on the line of being quite controversial, but it needs to be said.
You surely have your opinion
Trump

Putin

Guns

ISIS

Jesus

Mohammad

Buddha

On and on and on….
And you live in a democratic society where you have the right to your opinion. But will posting your opinion on your small business Facebook page be a wise move?
You WILL lose fans and followers! You WILL lose customers! And it will kill you on Facebook!
Remember, your personal Facebook page is not attached to your small business Facebook page unless you allow it to be.
The wise small business owner keeps their controversial opinions away from their small business.
Spamming Your Audience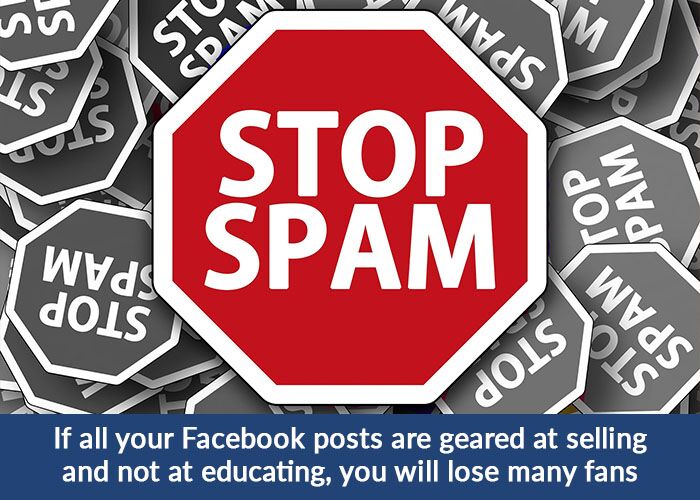 This a huge mistake made by many small business owners. If all your Facebook posts are geared at selling and not at educating, you will lose many fans, followers, and potential customers.
The majority of Facebook visitors are not looking at their news feed with intentions of buying something. They have no desire to see messages that feel overly pushy.
Facebook marketing experts generally agree that an 80/20 measurement works.
What we mean is, you post educational content 80% of the time. Yes, you can subtly market your product or service, but the primary message needs to be educational in nature.
20% of the time, you can market your product or service directly. But be discreet. Using visuals is one of the best methods because most Facebook users are drawn more to images, videos and infographics than they are written text.
On all posts, also make sure you should have a call to action.
Not Being Consistent And Being Predictable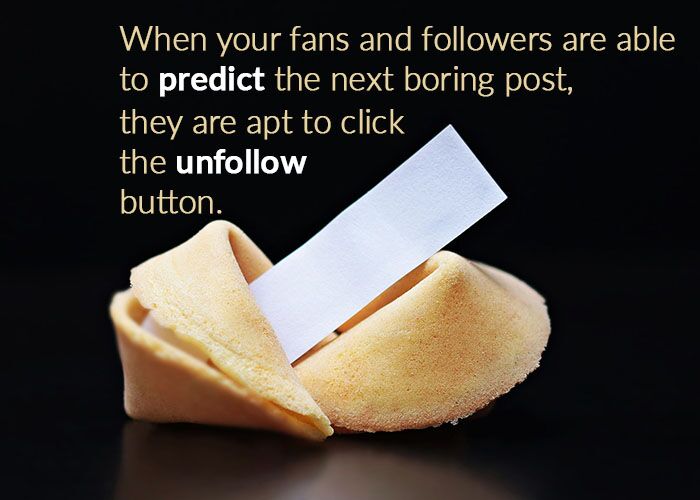 Too many small business owners have the idea they can just make a Facebook business page, post a couple of times and forget about it.
Just consider the message you are giving potential customers with this action.
Your small business fans and followers want to see consistency. If you are consistent with your Facebook small business page, the odds are good you will be consistent with your business.
Also mentioned here is predictability. When your fans and followers are able to predict the next boring post, they are apt to click the unfollow button.
Our advice is, mix things up. Post images, infographics, videos and you can throw in:
Just don't allow your Facebook small business page to become a boring page and you will grow your fans, followers, and customers.
Not Responding To Questions Or Comments
If you were to go to the customer service desk of any major department store asking a question and the person just stood there without answering you, what would you do? Probably be very dissatisfied with the service you were receiving, right?
If you do not respond to questions or comments on your Facebook posts, you are committing the same fatal error.
No response will absolutely kill you on Facebook. Think about it… Not only are you not responding to that one person, everyone viewing that post will see that you are not responding.
What if the comment is negative or a bad review?
That is all the more reason to respond! First, you should apologize and do everything in your power to make it right. By doing so, other people will see how much you value your customers and you are willing to "own the error," and try to fix it.
There are some times when you should delete comments. But only if they are inflammatory or out-of-line.
Facebook is called a social site for a reason. Be social with all and you will have great experiences using Facebook for your small business.
Violating Facebook Terms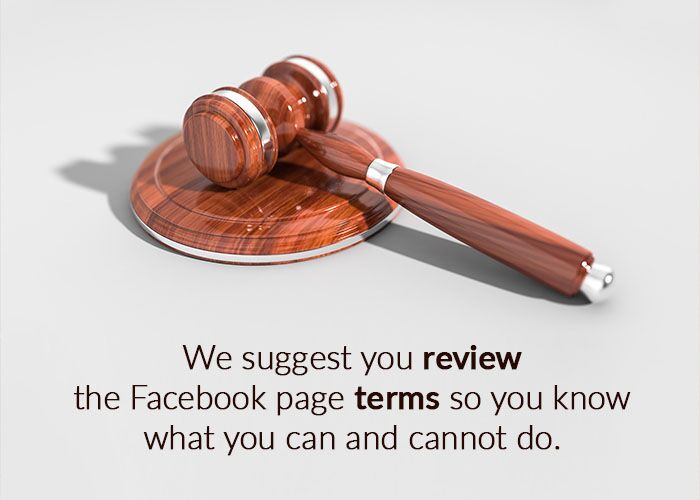 Facebook has to have rules or the site would turn into a chaotic mess. Some of those rules may seem intense but never the less, they are rules you must follow.
We suggest you review the Facebook page terms so you know what you can and cannot do.
While on this subject, you should also use empathy with the people on Facebook. Even if a post you are considering is not against Facebook terms ask yourself, is it ethical, moral, fair?
Would it be right to post a disparaging comment about a competitor?
Should you really use Photoshopped images making your services look better than they actually?
What I am saying is, you need to measure the consequences of your Facebook small business posts before you click publish.
Here are some of the most important Facebook terms you should know:
Page names must use proper, grammatically correct capitalization and may not include all capitals, except for acronyms; not include character symbols, such as excessive punctuation and trademark designations; not include character symbols, such as excessive punctuation and trademark designations; not violate someone's rights.

Don't use information obtained from a person's interaction with your call-to-action for any purpose other than to provide the service associated with the call-to-action.

You must not inaccurately tag content or encourage users to inaccurately tag content.

Covers can't be deceptive, misleading, or infringe on anyone else's copyright.

Pages must not contain false, misleading, fraudulent, or deceptive claims or content.

Don't include third party products, brands or sponsors within your Page's cover photo or profile picture.
These are just a few of the Facebook terms. There are many more in regards to any promotions you have using Facebook.
Make sure you clearly understand all Facebook page terms and you will do fine using the social media site for your small business.
More Mistakes That May Not Kill You On Facebook But Could Cause Heavy Damage
The 5 mistakes provided are Facebook killers.
If you are currently making any of those mistakes, hurry and fix them.
Do keep in mind that we may be able to help.
There are some other mistakes many small business owners are making on Facebook that can damage their reputation…
Not Optimizing
Not optimizing your Facebook business page is similar to having a restaurant that serves food but has no refreshments.
You need to completely fill out all sections of your small business Facebook page:
Profile image – high quality

Cover image – also high quality

A business description

Business location

Hours of operation

Contact info

Website
You should also get a custom Facebook URL.
Make sure your profile image is recognizable. Will Facebook users be able to understand your business by the image?
When you completely optimize your Facebook small business page, Facebook users will know you are for real.
Not Building Relationships
The best way to gain trust on the largest social media site is by building relationships.
Quit thinking everything you say and post needs to make money. If you focus on the relationship, the profits will come.
Maybe you own a pet store but you noticed one of your followers (who you followed back of course) just posted that they don't understand how to put a thermostat in their car. And, you have the same car and you changed the thermostat 3 weeks ago.
You know how to do it!
But isn't it about selling pet supplies and little, furry kittens?
No! It is about building relationships!
Tell your follower how to change that thermostat. It is the right thing to do, even if they never buy a little kitten.
But don't be surprised when all those other people start wandering into your pet store and telling you that was a great thing you did on Facebook.
Relationships on Facebook are profit builders!
Delegating Facebook Small Business Page Management To The Wrong Person
Delegating tasks is a must for the small business owner. But you must consider who you are delegating the social media management too.
Does that person have the knowledge to attract instead of detracting potential customers?
Will they be able to use your brand's voice?
Is the person customer service oriented to answer questions and manage reviews?
It is important that you ensure the person or persons that are managing your Facebook small business page are competent.
Let's Summarize
You just received a lot of important information. We will summarize all of these in a simple list you should use to make sure you don't get killed on Facebook:
Don't post controversial stuff!

Do not spam!

Be consistent and unpredictable!

Respond to comments and questions!

Do not violate Facebook terms!
And…
Optimize your Facebook small business page

Build relationships

Make sure the correct person is managing your Facebook small business page

As long as you follow this prescription, you will build a solid Facebook small business following and be on the road to success.
Conclusion
You may not agree with one or more of these mistakes we believe to be fatal for small business Facebook pages, you have that right!
We would love to hear your feedback and opinions. Feel free to post those and any questions you may have below.
One other thing, be sure and grab the eBook we are offering our readers: The Ultimate 10 Step Guide To Tripling Sales Using Facebook.
Do you know other small business owners that could use this information? Share it with them… They will thank you for it.