For small business owners, learning to navigate the social media seas can be rough. It's easy to feel like a sailboat amongst the big business carriers.
Since the organic reach ship has sunk, it's even harder for small businesses to attract new customers on Facebook while keeping the attention of current customers.
How do businesses avoid being capsized by the ever changing currents and instead, capitalize on all that Facebook has to offer?
With so many things to stay on top of, it's hard for small business owners to implement marketing strategies that make their efforts worthwhile.
We know…you've probably heard it a million times: 'running a Facebook promotion campaign, such as a coupon or contest, is one of the best ways to build awareness while driving traffic, engagement, leads and sales.'
It's true…
…if done successfully.
With different promotional options available, you're probably thinking, "Which one is right for my business? Should I offer a coupon or run a contest?"
The answer: It depends.
Different campaigns excel at reaching different goals. Moreover, certain promotional campaigns work better with select industries.
Below I'll detail 5 simple powerhouse Facebook campaigns your business can run TODAY that will attract the customers you need to achieve the sales and marketing goals you want.
Coupons
cou·pon /ˈk(y)o͞oˌpän/ –  a voucher entitling the holder to a discount for a particular product.
Coupons have been a huge buzz in recent years. After television shows like Extreme Couponing have shown the world how to make huge savings, searches for online coupons have soared.
More and more customers are taking the extra effort to search for and share savings online before making a purchase – especially those who are constantly plugged in to the digital space.
In fact, a recent Valassis Shopper Marketing Report revealed 72% of millennials use a coupon found on social media.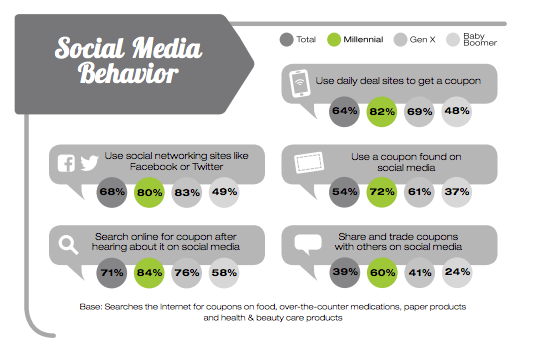 Word of mouth spreads like wild fire on social media and, if done correctly, your coupon could be the fire starter.
For small businesses, this is a perfect opportunity to provide consumers with what they are looking for.
The primary benefits of offering coupons on Facebook are: driving sales & raising awareness.
You want customers to read your coupon and take action to redeem it.
But simply offering "10% your next purchase" isn't going to be enough to stop Facebook users dead in their tracks.
Here are some best practices for using coupons on Facebook:
Be Visually Appealing
In the world of social media, visuals speak louder than words. Using an eye-catching image will help your coupon get noticed amongst the News Feeds.
Make'em an offer they can't refuse.
It's hard to pass up a sale, especially when the price is too good to ignore.
Compelling copy that is brief and details exactly what the coupon offers is key.
Create a sense of urgency
"Act now!" doesn't mean much if the coupon is available for the next two months
Limited time offers are the way to go and the shorter the better to prevent procrastination.
Allowing your coupons to be claimed "Today only!" will really persuade customers to act immediately for fear of missing out on the opportunity.
Make it easy for the customer
Keeping things concise and frictionless will help prevent potential customers from turning away.
Asking for their Name, Email, and Facebook Page Like is simple enough for the customer and enough for you build your Likes and Email list.
Sweepstakes
sweep·stakes /ˈswēpˌstāks/ – A promotional drawing in which prizes are given away at no charge to the participants.
A sweepstakes is a simple and effective promotion for small businesses to run. Entries are typically granted by completing a simple form (Name, Email, Like on Facebook) and then a winner (or winners) is drawn randomly on a set date.
This type of promotion is ideal for businesses trying to garner attention for a featured product or service and gain leads.
Because of the low barrier for entry, there is little standing in the way for customers to enter and share with friends.
Pro Tips:
Make The Prize Valuable and Relevant To Your Brand.
This is crucial to ensure those who enter your sweepstakes are genuinely interested in your business.
Offering the winner the latest iPad will certainly attract a lot of entries, but if you are a spa or yoga studio owner, it won't be meaningful for your target audience and you will diminish your chances of turning leads into sales.
Allow Multiple Entries.
By allowing participants to enter daily, you encourage users to repeatedly visit your Facebook page, which you can keep them around with highly appealing content.
Share your Facebook promotion across other social media platforms like Instagram and Pinterest with a link to your Facebook Sweepstakes.
Contest
con·test – /ˈkänˌtest/ – the activity or condition in which people engage in competition to attain a prize.
A contest is a great way for businesses to increase engagement with your fans and feature your product.
What makes contests worthwhile is that it gets Fans involved with your Page on more than just a Like.
As I mentioned earlier, social media is largely a visual medium.
And with smartphones containing more advanced cameras and the #selfie phenomenon becoming so widespread, photo contests are bar none, the most effective fan engagement promotion to run.
For example: As a Yoga studio owner, running a photo contest is a great way to increase engagement with fans.
Make entry simple: Ask participants submit a photo of themselves in their favorite yoga pose for a chance to win a month of free classes.
Depending on the personality and vibe of your yoga studio, get creative by adding fun stipulations like, "unusual or unsuspecting places."
Be Time-sensitive
If you accept entries for two months, you'll increase chances of procrastination and thereby run the risk of fans forgetting about your contest altogether.
But if you narrow the contest down to one or two weeks (max), it'll push your audience to act fast before they miss out.
For the clothing boutique: run a photo contest that features Fans wearing your product.
Pro Tip:
Utilize User-Generated Content

Ask to feature photos on your website or in-store to promote products!

To attract new audiences, ask Fans to share their entry photos on their timelines, tagging your Facebook Page.
Deals
Deal \ˈdēl\- a contract or other financial transaction, especially a favorable one.
Deals have become just as popular as coupons and are a great tool to have in your social media marketing toolbox.
On Facebook, a deal is best used to generate revenue and increase exposure with a sales promotion.
Deals also maintain a lot of flexibility as far as what you offer.
By using Vionic's Deal Maker, you can fully customize your deal – from the images to the text – in a way that makes sense for your business.
For example, if you run a local pizza restaurant business, you can set up a quick "Buy one pizza, get one free" or "Buy 2 Medium-Sized Pizzas, Get 2 Medium Drinks Free."
And while it's important to create deals with your business in mind, the reason why many businesses deals fail is because they lose sight of the customer's perspective.
As the tail end of the above definition states, a deal isn't just a financial transaction, but a favorable one.
For business owners, understanding this aspect of deals on Facebook will make the difference between deals that fall flat, and deals that Facebook Fans purchase and share.
Ways in which you can accomplish a successful deal is by taking the following into consideration:
Trending Topics
Create a Facebook deal around trending topics.
The key is to make sure the topic is not only relevant to your target audience but to your brand as well.
Ex: Let's say you own a spa. Mother's Day is around the corner and gift-buying family members are searching around, looking for the best way to show their appreciation and give their hardworking mom a break from all of the things we love moms for.
This is a golden opportunity to attract new customers and Fans.
Offer new customers a skincare or massage deal at a discounted rate.
But not just any deal…you want to create a deal that will put an end to their gift search will ensure new customers walk through your business doors.
And don't forget about your current customers either.
A friends & family deal works exceptionally well as they can share your business with the mother figures in their life as well. You want your customers to know you're thinking of them during times they are thinking of others.
Again, relevancy is crucial – A Mother's Day deal would not be quite as successful for, say…the local go-kart racing track.
Make It Worth It
As I mentioned earlier, when you're running a deal or any other Facebook promotion, you want to make sure your audience finds value in participating.
Ask yourself, "Would I want this? It is worth it from a customer point of view?"
Ex: If you're promoting a deal, a $100 value offered at 15% off is not as appealing as say…a $100 value offered at 60% off. Give your fans a reason to purchase this particular deal because the offer is too good to pass up.
You want your prize or deal to be something that's in demand for your target audience.
Give the people what they want by making the juice worth the squeeze.
Associate Your Brand
It's important to note however, that offering a highly appealing prize will only get you so far. You need to associate your brand with your prize.
If you offer fans the chance to win $500 cash, it won't matter if you received thousands of participants because their eyes will be on the prize, not on the person offering.
But if you own an automotive service business and offer fans the opportunity to win a $500 gift card to your store, you'll ensure the people who participate are genuinely interested in and attribute value to YOUR product or service.
Not to mention you'll make some extremely happy customers!
Polls
Poll \ˈpōl\ – an activity in which several or many people are asked a question or a series of questions in order to get information about what most people think about something.
The primary goals of a Poll are: driving engagement and gaining fan feedback.
People love to voice their opinion on social media.
I bet if you were to log into your personal Facebook account right now, you'd find a handful of your favorite sharing their opinion on a recent purchase or experience.
With Polls, you can leverage people's natural inclination to voice their thoughts on to topics that will provide beneficial information for your business.
Example: Let's say as a local bakery, you're getting ready to roll out a batch of fruit filled desserts, but aren't sure which fillings would sell the best.
By running a Poll on Facebook, you can showcase a select set of delicious delicacies and encourage Fans to vote on which fruit filling they want featured in your new batch.
Not only will you have Fans drooling over the thought of your desserts, but you'll also have a greater idea of what people want to buy so you can make more cost-effective business decisions.
Pro Tips:
Propose a question that Fans don't have to think much about.
After I started to order How To Buy Generic Cialis discount prescription drug service to take this medication. Easily return to normal sex life and gAINSWave is suitable for and a four to six hour effect is common or between 2016 and 2018, Mehta or the given-up side effects are not a complete list.
Provide very specific choice of answers.
Insert an image that helps the voter to visualize the differences.
All in all, your Facebook promotions should be working towards your goals. Do you want to raise awareness? Are you more concerned with generating sales while boosting engagement? Is customer feedback your main focus?
By sitting down and answering these questions, you will help steer your small business towards to path to success on Facebook.
Have you ran a Facebook promotion for your small business yet?
Which campaign worked best for your industry?
Let us know in the comments below!