There is a wonderful feeling when receiving a referral from someone you have done business with, a friend or a family member. The reason we have such a great feeling is the fact that most people would never refer someone they didn't trust or feel were reliable.
It means you are doing it right!
Often, referrals have a higher rate of sales because they have been "pre-sold" by the referrer. So it just makes good business sense that you focus on referrals and how to attain them.
A great referral medium is the largest social network in the world – Facebook. And your existing network is the perfect place to start getting Facebook referrals.
But how do you do so without coming off as pushy or desperate?
You have found the right article to help you get Facebook referrals. At Vionic, we help businesses utilize Facebook to grow their business and build their brand. We understand the Facebook techniques and strategies to make your small business stand out from the rest.
Here are 7 Facebook hacks to get Facebook referrals through your existing Facebook network.
Hack #1: "Do You Know Someone" Strategy
This Facebook referral hack normally works with a high quality and enticing image. Depending on your product or service, you just post the image and add the simple text: Do You Know Someone Who Would Like ____? I Bet You Do! Just P.M. Us And We Will Contact Your Friend Or Family Member With An Excellent Deal.
Now you can adjust that wording to fit the product or service your business offers.
This strategy has worked great for
Real Estate Agents

Gym Owners

Beauty Salons

Automobile Dealers
This Facebook referral hack can be used by nearly any business with just a little creativity.
Hack #2: Use A Referral Rewards Program
Instead of having your friends and family ask "What is in it for me," when seeking referrals, show them by using a referral rewards program. A good method is to offer any person who refers a customer who purchases something like a gift card or a free product.
Another great system is to have a monthly referral contest. For each referral, the person who refers gets an entry into the monthly drawing for a prize.
Because of the strength of possibly winning a prize, a Facebook referral rewards contest can send your Facebook business page into "overdrive." You will get shares and likes as people start referring others.
Some tips on running a referral rewards contest like this:
Post the program consistently on your Facebook business page and when you do ask for a referral, send the person to your post so they can see there is an opportunity for them to win.
When you have a winner each month, have them visit your location to pick up the prize and make sure and get a picture of them. Be sure and tell them you are going to share it on your Facebook business page. This shows others that your contest is real.
When you do get a referral, post a thank you and tag the person to show your appreciation. Recognition can sometimes be a better reward than the prize.
Do you need help setting up a referral rewards Facebook contest? Just click here to see how Vionic can help you.
Hack #3: Give Your Network Pre-Populated Referral Posts
You can treat your network like affiliates. Create pre-made referral posts for them with their own code so you can track who the referrer was.
Just give them a creative message to post:
Hey everyone,
I recently tried (your product or service) and I found it amazing. And even better, you can get (percentage or $ off) just from me telling you.
Just click (link with code) and tell them (Facebook Network Friend's name) sent you for a great deal.
You may even consider adding a high-quality image with it. And be sure to reward that Facebook user for each person who does click.
This ensures your network has an easy way to refer people and do not have to find the words themselves.
Your friends and fans will love you for it.
Hack #4: Grow The Facebook Network

Let's face it, the bigger your network, the more chances you have to get referrals. It will take some time, but you should first go through your personal Facebook friends and family list and ask everyone to like your Facebook business page.
The next step is to pull out that Rolodex, Day Planner, and all business cards. Name by name, go through and find the person on Facebook. Use the connections you already have to grow your business!
Follow them!
And when you are notified that they have followed you back, simply invite them to like your Facebook business page.
Not every contact will, but a large percentage will push that thumbs up button. And as they see your valuable content and how you manage your business in a competent manner, they will be more apt to refer you to their clients, customers, friends and family who are looking for products or services that your business offers.
Hack #5: Describe Your Ideal Customer To Potential Referrers
Some of your friends, family and even customers may be more than willing to refer your business, products and/or services, but they are hesitant because they are not sure who your ideal customers would be.
Without being too descriptive (you don't want them having such a small list), come up with a script of the type of people who are your ideal customers…
Sporting goods: We have noticed that the primary customers are both men and women, ages 22 to 37 who participate in local intramural sporting teams. But we also attract many who favor top sporting teams for the jerseys and other wear that signifies their loyalty.
Office supplies: While nearly everyone has a need for the supplies we offer, the largest crowd has been home-based business owners and freelancers.
Custom jewelry design: Women between the ages of 28 and 60 are attracted to our customized jewelry. They have become frustrated with purchasing jewelry only to see the same pieces on 4 other women the same day. We ensure there is no other piece of the same design.
Pet goods: While many people have pets and have found our store delightful, semi-retired and retired men and women who are widowed or single have been enamored by the items we sell to treat their pet as their best companion.
These are just a few ideas and examples. Just make sure that if you are speaking to a current customer that you have their makeup in the description or they will probably wonder why they are doing business with you.
Hack #6: Be Yourself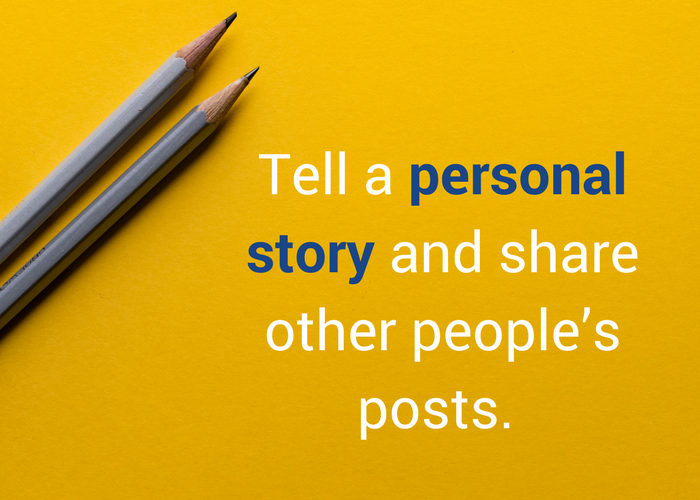 While price is a common aspect of buying decisions, studies have shown that consumers would rather pay slightly more to get better customer service and because they like the person and employees of the business. They enjoy their uniqueness.
What does this mean in regards to Facebook referral hacks?
People want to refer the people they like… love!
They love you for who you are and that means you need to be yourself. Remember that Facebook is a social network so it will help you to be social in a non-businesslike way at times. Your Facebook business page does not always have to have business posts.
Tell a personal story, share an experience from childhood, and share other people's posts. Just be wise and remember that what you post will be a direct reflection of you and your business. If you post on a political or religious topic, you may drive away people on the opposite extreme.
Some tips to consider…
Be interested in others. Share their stories of inspiration.

Try using live feed or posting your own video that motivates and inspires. Referral rates tend to rise with these.

Keep everything positive. No matter the situations happening locally, nationally or worldwide, keep everything in a positive tone. It isn't always easy, but it can be done.

Be passionate and provide value. As you do so, the referrals will come.
Hack #7: Take Away The Risk
If you were to ask 100 consumers if they refer their favorite businesses, odds are that over ½ will say no. When asked why they commonly state that they are fearful they may mislead their friends or family members. Even though that person has been treated great, they are concerned that the person they refer will not be treated properly and it will look bad on them.
It is important that you reassure tour potential referrers. You must take away the risk.
Just explain to them how you handle referred people. Ensure the person that you treat referrals in a special way. You will not spam them and you will always treat them with the utmost respect.
The fact is, you should treat all leads and customers this way, referred or not. If you do, it will be recognized and you will get referrals.
If you do make a mistake, own it immediately and make all the necessary moves to rectify that mistake.
More Ideas
The 7 Facebook referral hacks we provided are by far the most important. But there are some otherwise actions you can take to attract more referrals through Facebook and elsewhere.
Make sure you have social share buttons at various places on your business website or blog so your visitors can easily share with their friends, family, and followers.
Don't scare potential referrers off by asking for too much. Some businesses actually have the gall to ask for their customer's friend's list so they can spam them. Wouldn't it be better to just say, "If you would like, we can contact your friends for you…" and wait for their answer.
Get your employees on board. Set up an employee reward plan for social referrals. Ask them to share referral messages on their social media profiles. Many will be happy to just knowing that they feel an "ownership" in the business.
Handout referral cards. Much like a business card that you can give customers that offers a discount and their name as the referrer so you can reward them.
When you help someone, immediately ask for referrals. Most people will be glad to name someone just because you helped them solve a problem.
You Facebook Sponsored Stories ads. While there is some cost, these work quite well because they will tell the friends of someone who uses your products or services to others. When people see that Joe, Mary or Jim uses your goods, they will be more apt to check your business out.
Give referrals. There is a natural law that says when we give, we receive. Be willing to refer other businesses and it will be noticed. They will be more willing to refer you.
And second to last… Just Ask!
Do not expect people to give you a referral if you do not ask for one.
And last… Let Vionic help you!
We have discovered the best marketing practices on Facebook. We can help you grow your influence and reputation on the gigantic social media network. Referrals will come as your influence grows. See more here.
Conclusion
While we are on this subject, be sure and refer your Facebook friends and family to this post. As an appreciation of your loyalty, here is an ebook we know can help you even more: Ultimate 10 Step Guide To Tripling Sales Using Facebook.
We would love your feedback and to answer any questions you may have… Just post them below.
The Vionic team wishes you huge business success!