A successful Facebook promotion will allow you to convert your fans into customers, grow your email list, raise awareness online, and drive foot traffic to your business.
But businesses of all shapes and sizes can drop the ball just as easily as they can score.
So, to help you cover your bases, here are 7 mistakes businesses make when running a Facebook promotion — and how to avoid them!
1. You're Not Using High-quality Visuals To Get Attention
The first and most important step to any successful promotional campaign is getting the attention of your audience. No matter how great your business is, but no one will enter your promotion if they have no idea it exists.
With a constant stream of content being shared across Facebook, it can be hard to stand out amongst the competition.
What's the best way to get your campaign noticed on your fan's Facebook News Feed?
With eye-catching visuals.
Facebook is a heavily visual medium and when it comes down to what gets seen in the News Feeds, images and video outweigh text status updates and links.

Use simple design apps like Canva or Pablo to create stunning images in minutes to add to your campaign.
With Vionic, you can upload your own photos and even videos to add some life to the product or service prizes of your Facebook promotions.
2. You're Not Making Your Prize Relevant To Your Business
It's one thing to get tons of traffic to your Facebook campaign, it's another to get quality traffic to your Facebook campaign.
You've probably seen this situation before – a business running a contest offering some kind of 'universal' prize to the winner.
(It's almost always an Amazon gift card or a vacation cruise.)
It's a common mistake to make when you're desperate for leads…however, you'll soon discover trying to convert those leads will be like squeezing a rock to make orange juice.
Your Facebook offer or contest prize has to be:
1. Relevant to your business.
2. Worthwhile for your audience.
If you want the right people to claim your offer or enter your contest, you'll need to offer the right prize.
3. You're Not Incentivizing Facebook Shares
It's no secret word of mouth is key to small business success.
But most businesses fail to bring this aspect into their Facebook promotions in an effective way.
Sure, you can ask other's to share a link to your sweepstakes contest on their Timeline.
The problem is they don't want to risk their chance to win.
The key?
Incentive sharing.
Mexico based business, Go Gym, offered a killer prize (a free one-year membership) and incentivized people to share their Facebook campaign by granting multiple entries for every 5 people they referred!
Go Gym pulled in 1,428 email leads as a result.
It definitely proved to be a win-win situation.
4. You're Not Spreading The Word On All Channels
Not all small businesses should have accounts on all social media networks, but you should be promoting your Facebook campaigns on the ones you do have.
Cross-network promotion is a great way to build a stronger presence and community online.
Here are more ways you can promote your Facebook contest or promotions:
• Use Buffer to schedule a series of social media posts to build anticipation.
• Send out an email to your subscribers – especially to people who entered your last promotion.
• Promote in-store with flyers, cards, even on receipts!
• Write a blog post sharing all of the details.
• Get your employees on board! Not everyone needs to be a social media specialist to share a link.
No matter how big, small, short, or long your Facebook promotion is, you may be surprised where you'll find an untapped source of traffic.
5. Not Using Facebook Ads To Promote Your Campaign
Because of their super specific targeting abilities, Facebook offers powerful, cost-effective ways for you to advertise to the people most likely to care about your business and promotions.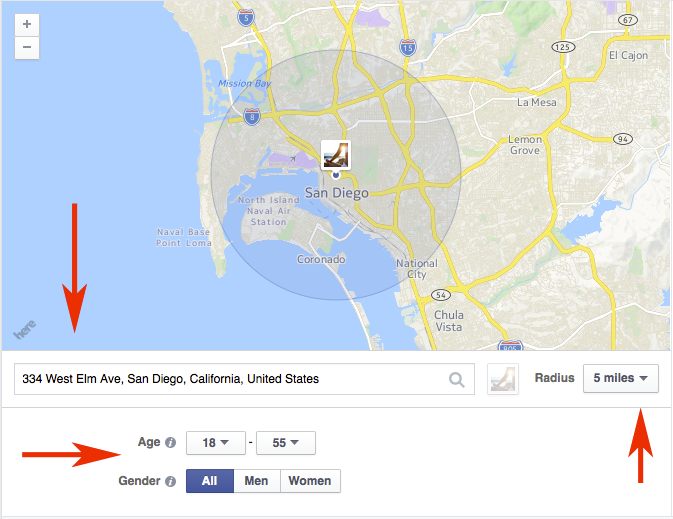 Depending on the goals of your campaign, you can reach people based on location, age, gender, interests and much more.
Let's say you're offering 50% off 2 months of yoga classes to newly registered members.
You can create a Facebook ad promoting your deal, target based on the keyword 'yoga' and have your ad shown to people within a set mile radius of your physical business location.
6. You're Not Collecting Emails
Running a Facebook Timeline contest is a quick way to run a promotion, but it's not the best way.
One of the biggest benefits of using a Facebook contest app is that you can collect emails from those who claim your offer, enter your sweepstakes, or compete in your contests.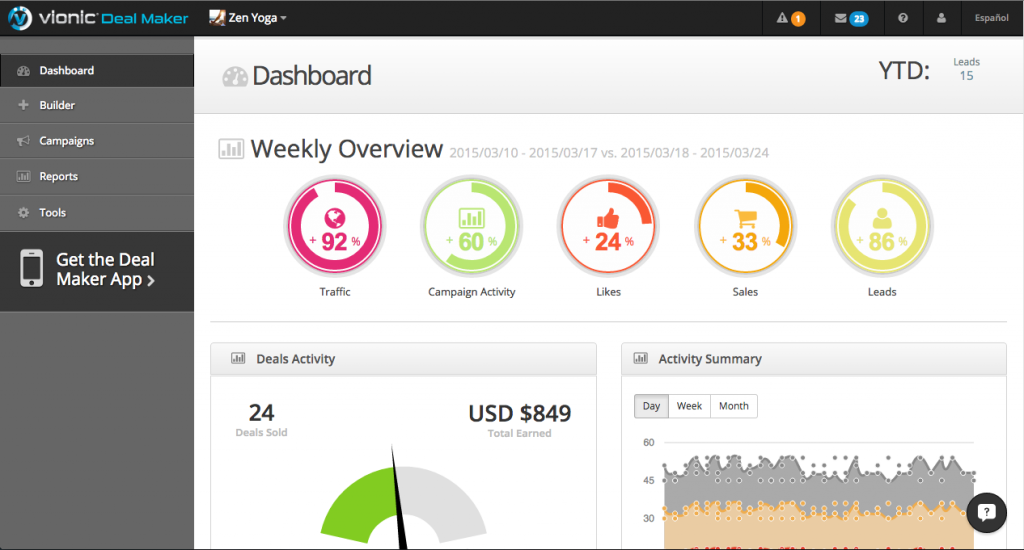 It also makes it super easy to keep track of your Facebook promotion performance.
Once you've earned the email of your fans on Facebook, you open up a direct channel of communication and marketing for your business.
7. You're Not Following Up!
You've done it.
You designed a killer Facebook contest to gain more leads.
You're featuring your top product as a prize.
You built up a buzz of anticipation on social media.
You made announcements in your newsletter and in-store.
You reached new audiences with Facebook Ads.
You gained a ton of new emails as your Facebook promotion comes to a close…
and then months go by as you fail to capitalize on your new prospects.
How do you convert Facebook fans into Facebook customers?
Easy…
You send them a link to purchase your featured prize on Facebook at a discount using Vionic's Deal Maker Pro.
And The Nail In The Coffin…
You're not measuring the performance of your Facebook promotions.
Your offline audience might respond differently to your online fanbase.
Should your business run a photo contest or offer a coupon on Facebook?
The answer depends heavily on your industry and demographic.
The best way to find out is by tracking your results.