One of the key aspects in marketing is standing apart from "the other guys." You've probably already committed to doing so on your website and in your ads, but how can you customize your Facebook page to stand out?
Teaching Facebook for small businesses has been Vionic's priority. We want to help the small businesses have the same advantages as the corporations who have teams of people already set up to collaborate on their marketing efforts.
There are multiple unique ways you can customize your Facebook page. Today, we will examine 7 unique and fun Facebook customization tricks that are often overlooked.
Scroll down and learn.
#1: Claim A Custom URL
You want your brand and your business to be easily accessible on Facebook. When you create a Facebook page, the social media giant normally provides you with a generic URL. You can change that Facebook page URL once, so you want to choose wisely.
You just simply go to facebook.com/username and check to see if the name you choose is available.
If you are creating a business page from your personal Facebook account, you will have the ability to choose the URL immediately, so we suggest you have several URL choices in mind before creating the page.
Keep in mind that you want your business easily discovered if people type it in the Facebook search bar.
#2: Use Unique And High-Quality Images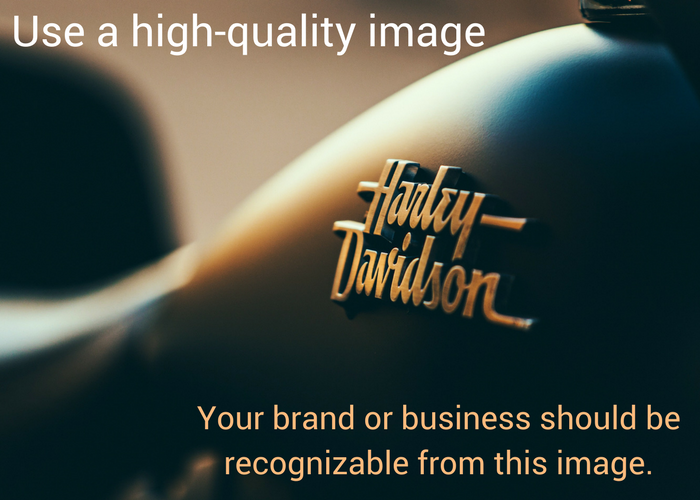 When you create a Facebook business page, there are 2 images that hold huge importance:
The profile image

And the cover image
Your profile picture will be visible everywhere. Your brand or business should be recognizable from this image. Many businesses use their logo which is perfectly fine, but make sure the image is optimized to fit nicely in that Facebook profile photo box.
The primary goal with a business Facebook page profile image is to have Facebook users immediately know the brand. Some good examples are Coke and Nike. But they do have short names that allow them to put their name in the profile picture. You may not have that advantage, so ensure that the logo you use will easily be known as your brand image.
We are quite proud of our big V on our Facebook business page.
As for your Facebook business page cover image, we suggest getting creative. Again, use a high-quality image but feel open to adding text within that image to help those who visit your page immediately understand what your business does and how you can help them.
There are several rules you should know about your Facebook cover image. You cannot:
Use 'share now' or 'tell your friends' text

Put contact information (email, phone or address)

Have sale or discount information

Use messages about liking

Have over 20% text in your Facebook cover image
You have other areas on your Facebook business page where you can do all the things Facebook doesn't want in cover images.
Many choose to regularly change their cover image. This can create a buzz to give your audience something new and different to view on a regular basis.
A great program to create extremely "hot" looking Facebook cover images is Canva.
#3: Examine And Control The General Settings
There are several areas you will want to manage in the settings of your Facebook business page.
The settings tab is on the right side of the top navigation. When you click it, you will find a host of general settings you will want to manage.
Who can see your page
Part way down you will find country and age restrictions. If you don't do business in certain countries, it really makes no sense having your Facebook business page appearing to people in those countries.
You also have the ability to restrict certain ages from seeing your Facebook business page.
Who can post
You also have the ability to say who can post to your Facebook business page, and if they can post images and/or videos.
You also have control over who can tag photos.
Messaging
You have the ability to allow Facebook users to privately contact or to disallow.
Control over wording
You can turn on the Facebook profanity filter as well as disallow any words from being used in comments on your Facebook business page.
The profanity filter has 3 settings…
These go by what Facebook users have deemed offensive.
#4: Make Sure You Have All Company Information Filled In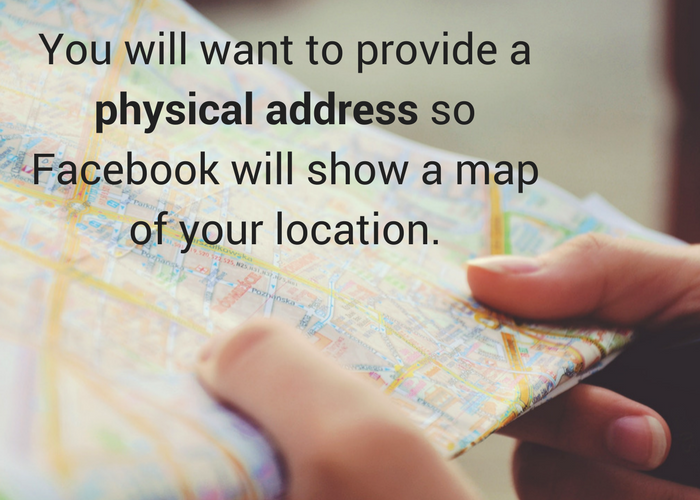 There are some important pieces of information to better help your Facebook page visitors better understand your business.
You will want to provide a physical address so Facebook will show a map of your location. You should also add your contact information such as phone and email.
You will also be given the ability to link your business website. And you can also install category tags to further define what your business sells or produces.
For the 'About" section you want to use every character possible to accurately describe your business. You want to be as descriptive as possible to help people understand. Keep in mind that your description will be displayed near the top of your Facebook page on both desktop and mobile versions.
#5: Add A Call To Action
It only makes good sense to have a call to action. Facebook makes it so you can one of several calls to action. Send them to your website, a capture page, or a mobile app.
There are a few types of call to actions you can choose from:
Learn More

Contact Us

Send Email

Book Now

Watch Video

Call Now

Sign Up

Send Message

Shop Now

Use App

or Play Game
You should use tracking links so you can monitor just how well your call to action is doing.
#6: Customize Your Tabs
You have the power over which tabs show and don't show along with their order. Just click the 'more' tab and you will see another that says manage tabs. When you click on it, you can drag and drop tabs in the order you want them. You can also remove tabs or add them. When you click add tab, you are reverted to the Facebook Apps page where you can choose apps and install them on your page.
It is also possible to create tabs that are non-Facebook app related. Some ideas for custom tabs may be:
A terms and conditions tab

Blog subscription tab

Customer testimonial tab

Webinar registration tab

An ebook library tab
So essentially, whatever you can imagine could have a Facebook tab.
There are some steps in setting up custom Facebook tabs. Let's go through them:
1: Create The Content/Page Outside Facebook
Your custom tab will lead the Facebook user outside of Facebook to a page on your website generally.
It is important to know that you can only do this if your website has an SSL certificate. This means the web address will start with https instead of http.
Now keep in mind that the content you create in your website will actually display on Facebook. So you should make sure the width of your site is 810 px. All images and video should also be less than 810 px.
2: Become A Facebook Developer
Now you simply log in to the Facebook Developer zone using your normal log in details: https://developers.facebook.com/apps
3: Create A New Facebook App
You will see add a new app in the top right corner. Click it and then click website. Facebook will give you a Quick Start option, don't use it. Just click skip and create app ID.
The system will now ask for a display name. This is the name that will show on your Facebook tab. Select no for test versions and then choose apps for pages as the category.
Once you have done that, click create app ID and the system will go to an app dashboard. You may have to enter a captcha to ensure a robot is not attempting to do this.
4: Configuration
Now that you are in the app dashboard, click the settings tab. You will then click + Add Platform. Select Page Tab as your platform.
At this point, you will add the URL of the webpage you created for your Facebook tab. You should choose wide page tab which is the 810 px.
When that is complete, just click save changes.
5: Adding To Facebook
This is the most difficult part and can be slightly confusing, so follow it carefully.
In a new tab in your computer, you will create a web address using your new app ID and your URL, both of which can be found in the basic settings for your app. I am going to show you where you add these in the web address… They are in bold:
http://www.facebook.com/dialog/pagetab?app_id=your_app_ID&next=your_URL
Once you have all that correctly entered in your address bar, visit the link by clicking enter on your computer.
Now you just choose the Facebook page to add the custom tab to and click add page tab.
The tab should now be on your Facebook business page and you can manage tabs again to move it in the position you want it.
In some cases, the website host may have HTTP Post Requests forbidden. If you click the new tab and get a 403 or 405 Forbidden Error, the course of action is to work with a professional developer.
#7: Add Ratings And Reviews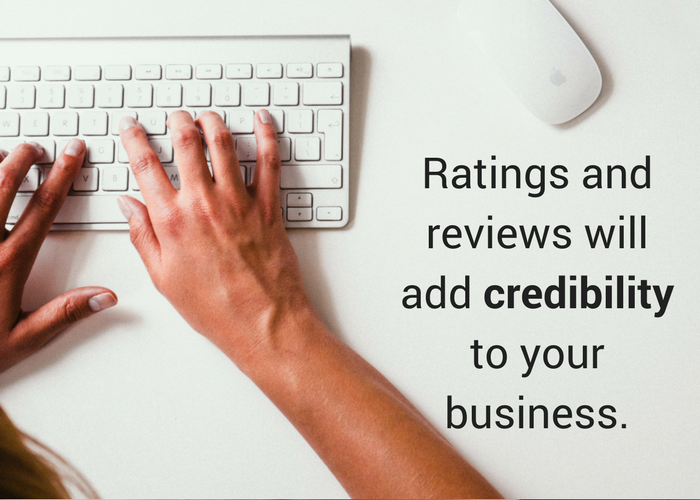 You probably want the option of customers leaving reviews and ratings on your Facebook business page. Ratings and reviews will add credibility to your business.
Are you wondering why some businesses have the reviews and ratings available, but your page doesn't?
It is actually quite easy to have this option available. You see, it is only available to businesses who claimed to be a local business and entered a full business address. To fix it so you have this available, go to the about section and choose page info. Click the pencil icon (edit) and you can change the category to local business. Click save changes and ensure you have entered your businesses complete address.
In a short time, the ratings and reviews will appear on your Facebook business page.
Conclusion
These all will help you make your Facebook business page stand out from the crowd. Do keep in mind that Facebook does adjust and add often, so you do want to keep on top of their changes.
We also suggest that you stay up to date on our blog as we do stay on top of Facebook small business changes.
And that is the other customization we want to discuss before we go. Setting up promotions and deals is an excellent way to grow your small business using Facebook.
Getting a DealMaker software prepared for your small business Facebook page makes good sense. Vionic has a DealMaker software that leaves you in full control of when, how and where you will run promotions via Facebook and grow your business substantially.
Multiple templates

You get Facebook likes and follows

Gain subscribers

and so much more
Check out what Vionic can do for your small business here.
Before we go, here is another valuable gift we want to give you. Get The Ultimate 10 Step Guide To Tripling Sales Using Facebook.
Just leave a comment below and we will get it sent to you immediately.
Also, if you have any questions, you can ask those below too.
Have a great day!