So you have created a Facebook business page, you are posting valuable content but why is there little or no Facebook page engagement?
It just doesn't make sense!
You may see another business similar to yours who has many people sharing, liking and following and their content is mediocre at best.
They know tricks you don't know! But you will!
We have been helping small businesses understand how they can use Facebook to its maximum potential. And today, we are going to help you understand how to boost your Facebook page engagement without advertising.
These are 8 tricks you can use.
What Exactly Is Facebook Page Engagement?
We thought we should define Facebook page engagement beforehand. Many users do not completely understand what it entails. No, engagement does not mean a person must comment. Page engagement can be defined as any action a Facebook user takes in regards to your Facebook page or posts.
Page likes

Follows

Liking a post

Commenting on a post

Sharing your page or post

Clicking a link on your page or post
Even just reading your Facebook post without doing anything else is engagement.
So scroll down and learn these valuable tricks. You will be glad you did.
Trick #1: Give "Em" The Goods
This is the #1 trick that everyone who has a Facebook business page needs to understand. The content you share on Facebook is the top source of engagement. If you are sharing low quality content, why would people want to share, like, follow or engage in any way with your Facebook page. Or, if your posts are always about your products or services, Facebook users will not get engaged.
You want to give people content that they will be excited to share. You want to give them the content that will make them look good when they share it. Content that gets the most engagement will be:
Educational

Hilarious

Sad
Just think about the content you love engaging with on Facebook. Consider the persona of your perfect customer and use empathy. What will they enjoy? Give them that great video, infographic, image or even just some wonderful text that will entice engagement.
And don't stop! Keep giving that quality content and you will boost engagement!
Trick #2: Ask Questions They Will Want To Answer
In the movie Field Of Dreams, the voice told Kevin Costner "Build it and they will come."
Just pretend the voice is speaking to you about your Facebook business page: "Ask them and they will answer."
It is true!
When you ask enticing questions on Facebook, people will get engaged. They have a deep desire to show they have an answer. They will answer questions if you ask them…
We are trying to determine the color for our new product and have decided to have Facebook users help us. What is your favorite color?
How many times per day do you brush your teeth?
Have you ever used one of these? (with an image of an older tool or device)
Just use your imagination and you can even find some fantastic statistics in using this Facebook engagement trick.
You could even use a choice type of question to help you find the answer to split tests on your products or services.
Trick #3: Post When They Are Seeing
You want to publish posts when people will be most apt to see it and engage. The times you post are important in engagement.
But how do you know when?
At the top of your page, click insights. Now, on the left side, click posts. The dashboard will show the times of day when your fans are online. You can adjust the date range to measure the times your fans are most active.
Try posting at various times of the day to find what times create the most engagement. Just keep in mind those active times.
Trick #4: Go Live!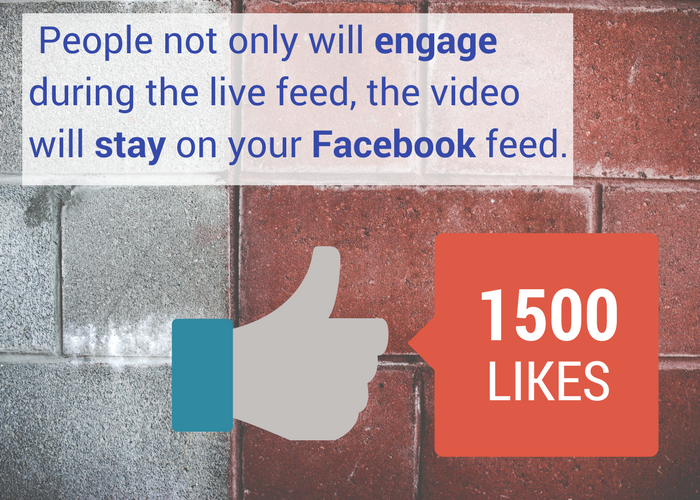 The marvelous live feed that Facebook instituted not too long ago is an excellent way to attain Facebook page engagement without spending advertising dollars.
You can go live with a video showing your products or services at work, of employees having fun or you giving tips. People not only will engage during the live feed, the video will stay on your Facebook feed.
Use Facebook Live and watch your page engagement go wild.
Trick #5: Be Responsive
When a Facebook user does engage and comments on your page/post, you need to be responsive. Set up notifications so you know immediately when anyone comments, likes or follows your page.
With comments, respond as soon as possible. When people realize that you care enough about your page to respond quickly, they will be more willing to share with other Facebook users.
With any new likes or follows, reach out in a private message and welcome them and offer your assistance with any of their needs or problems they want to be solved.
When you show that you are available and responsive, you will gain more Facebook page engagement.
Trick #6: Use Images
Facebook statistics tell us that images get huge attention on the social media giant. Posts with images get approximately 54% more likes on Facebook than text posts and approximately 84% more clicks.
And personally, take images grab even more attention.
Yes, high-quality stock images will draw eyes and clicks, but tossing in images taken from your smartphone is also well accepted. So one of your employees wore a clown nose to work, snap a photo and tell your Facebook fans they should come down and meet the clown.
You can use simple things like that to create a whirlwind of Facebook page engagement.
Do keep in mind that your profile and cover images need to be high quality, professional images.
Trick #7: Create And Join Facebook Groups
Creating a Facebook group and joining industry-related groups is a magnificent way to boost your Facebook page engagement. As other people join and meet you, they will automatically visit your page to see more.
Some other ways you can bolster page engagement from Facebook groups is
Sharing achieved milestones – Did your business win an award? Is it the 1 year anniversary? Maybe you just hit $500,000 in sales. When you share these achievements linking back to your Facebook business page, there will be engagement.

New product or service releases – While you shared the new product on your page, you should also share it in your groups. The members have their own circle and will be tempted to share it with them.

Answer questions and share your expertise – When you answer members questions, even if they are unrelated to your business, you will gain respect and favor. With these come engagement. Many will feel obligated to visit your Facebook page and engage on it.
Use the groups as a poll jumping board – We have helped small businesses create polls that draw likes, follows, engagement and sales. You can use these Facebook groups as a springboard to launch Facebook members to interact with your poll. See more about creating Facebook polls here.
Trick #8: Use A Call To Action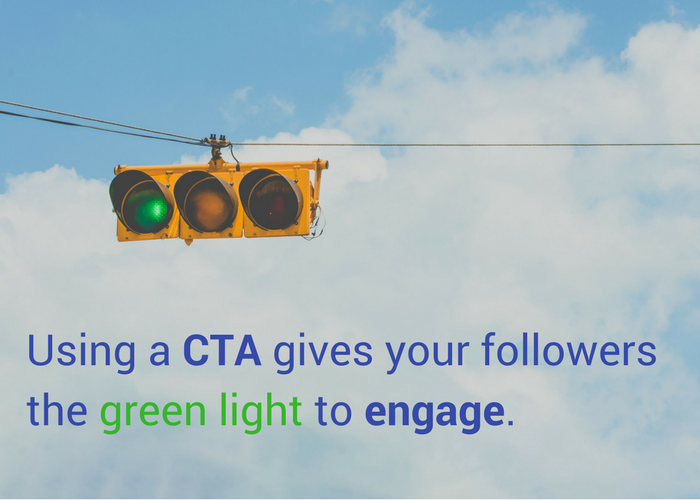 Why would anyone do something unless they were asked or told too? Many people will read your post but they may not engage unless you ask them to engage. Using a CTA gives your followers the green light to engage.
Use a call to action! If you ask them to do something they will be more apt to do it.
Hey, share this with your friends, they will love it!

Like our page to see more exciting posts like this.

We love feedback, so please take a second and tell us your thoughts.
You see, people have been trained throughout life to do what they are told. Use that psychology to your advantage and get engagement from it.
Use Them For A Big Boost!
If you use the 8 tricks above, you WILL see a huge improvement in Facebook page engagement. But you need not stop with these. Here are some other tricks that can help your Facebook engagement without advertising.
Host A Facebook Sweepstakes Or Photo Contest
Nearly everyone loves the idea of winning a prize. You could host a sweepstakes where Facebook users will be enticed to like and follow your page and fill in their contact info for a chance to win.
Or the magnificent photo contest that draws a ton of engagement as people follow your page and send in their images.
Engage With Other Pages
Here's a little secret!! Facebook algorithms work in a way that the one who is engaged will receive engagement.
Are you shaking your head in confusion?
It is simple! Before you post, try engaging with 10 other posts; like some and comment on some. Now publish your post. It will show up in more feeds because your were engaged before publishing.
I challenge you to test this. Post a similar item without engaging and see the lower level of engagement you get.
Share Relevant Content
There is nothing that says everything on your page must come from you. If you see that one of your fans or followers posted something interesting or useful, share it. By doing so, you will show that it isn't all about you. It's about being social on the world's largest social network.
Shorter Is Better
Unlike blog posts where longer gets more engagement and attention, Facebook posts get more engagement when the text is 50 characters or less.
It works best to use that Facebook post like a great headline and send the Facebook users to the content.
Pin A Post
Do you have a post that is getting a lot of engagement? Don't let it die. You can pin one post at the top of your Facebook business page. When you have page visitors, that will be the first post they see.
Post new products or services

FAQs

Highlight contest winners

Your company video
Drive Facebook Engagement From Other Sources
If you don't have your Facebook profile link on your website, you are missing out on engagement. You can also use other social networks to drive engagement on your Facebook business page. At Linkedin, Twitter, Google+ and others, just link to your Facebook page and say: Meet me here too!
Post Often And Consistently
Statistics have shown that those who post 2 times per day have as much as a 40% higher engagement rate than those who are inconsistent and just post at oddball times.
Facebook Page Engagement Conclusion
There ARE many ways to entice Facebook page engagement without spending money on advertising. But do know that boosting a post from time to time can also illicit a huge reaction.
But we do know that if you follow all the tricks given to you in this post, you will enjoy higher engagement rates.
Test them and see!
If you have any questions, just ask below and we will respond with an answer quickly.
We want to give you a gift since you took the time to read this post completely. Grab The Ultimate 10 Step Guide To Tripling Sales Using Facebook.
And before we go, if you found this valuable, share it on Facebook!