How fast can you identify an image?
According to MIT neuroscientists, the brain can identify images seen in as little as 13 milliseconds.
All day long your brain is trying to understand what you're looking at. It's no secret that visuals are simply easier to process.
It's the reason visual content has had such a growing influence on social media. Pinterest, SnapChat, Tumblr, and recently Facebook acquired Instagram all serve as major visual communication platforms – and they're only getting bigger.
So what does that mean for businesses on social media?
It means understanding who your customers are and how they view your business is crucial for developing strong relationships with target audiences and developing your brand online.
Why and how should you create strong visual content for your business on social media? Let's dive in!
Visual Content Performs Better on Social
In a recent study observing 100 million Facebook update, BuzzSumo found Facebook updates with images had 2.3x more engagement than those without.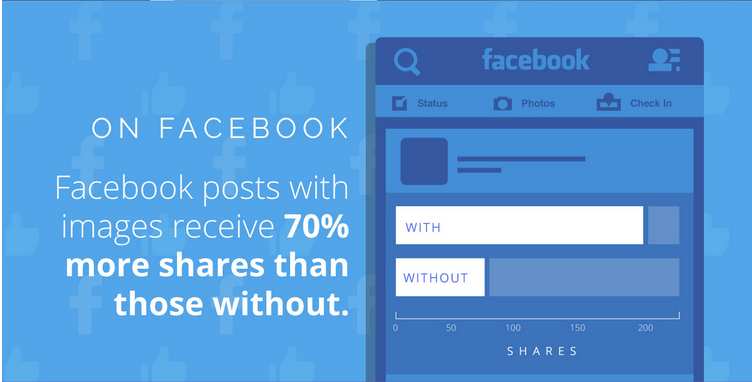 There's certainly power in visual content and the good folks at HubSpot created a handy infographic featuring a section with convincing insights, revealing we only retain about 20% of what we read and as much as 80% of what we see.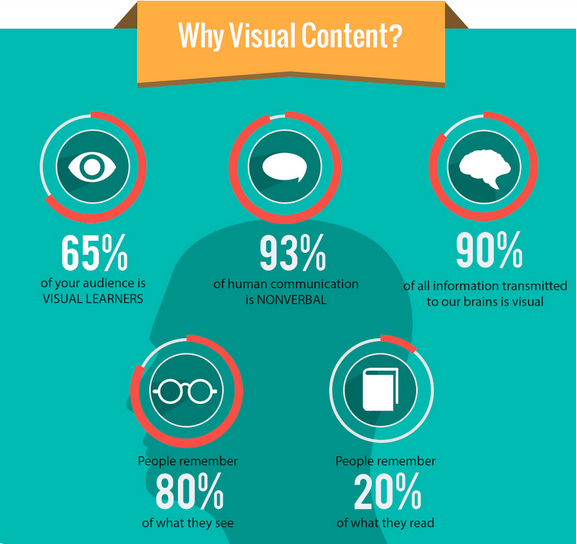 However, simply sharing any image isn't going to get you the kind of attention and engagement you're looking for.
It's going to take a bit of planning and strategizing that once you get right, could do wonders for developing a strong business brand online.
If you take the time to create unique, well-designed and functional visual content, it will likely be shared, thus creating awareness about and traffic to your content.
What Makes Eye-catching Visual Content?
In the aforementioned infographic, Hubspot suggests there are 3 keys to strong visual content:
1. Consistent color range
2. Fonts that match your message
3. Use of social media templates. (speeds up the process – business's don't have time.)
Let's first explore consistent color range.
Consistent Color Range Increases Brand Recognition
Different colors have a psychological and emotional effect and play a significant role in businesses large and small.
Robert Plutchik's classic Wheel of Emotions is a common reference for understanding the psychology behind the emotions certain colors evoke.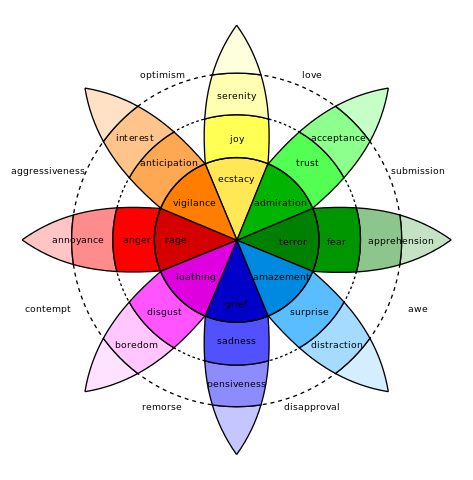 WebpageFX found nearly 85% of consumers name color as the primary reason that they purchase a particular product. 93% look at visual appearance when they buy a product and color improves comprehension, learning, and readability.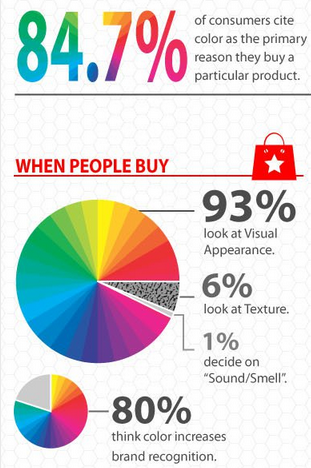 Businesses should be fairly familiar with how colors affect consumers experience.
For example, it's almost impossible for customers to ignore a big red SALE sign and not feel a sense of urgency towards a clearance sale.
The last figure reveals 80% of people think color increases brand recognition.
This is exactly why having a consistent color range is so important for your business branding – especially on social media.
Appealing Visual Content Strengthens Your Business Brand
Take the time to recall your business's values, traits and what your customers expect out of your service – that is what will be at the heart of your branding and will help you create unique visual content.
Amazon CEO Jeff Bezos has said "Your brand is what people say about you when you're not in the room."
Ian Main recently gave Neil Patel's QuickSprout a branding upgrade.
When it came down to deciding on colors, Main says:
Quick Sprout already uses green as a primary color throughout the logo and brand. Dozens of words were found during the mind-mapping research that directly related to the connotations of the color green…

Because Neil publishes marketing content regularly, my goal was to find a green that felt calm and soothing. This color needed to create a mood that would help readers relax and enjoy Quick Sprout.
A strong visual brand effectively conveys your business's personality and helps increase brand recognition.
If you don't already have a color scheme for your business, Ian shares great advice: "Knowing what colors are used in your industry, including by your competitors, is a great way to start the process."
What kind of emotions do you want your images to evoke?
Because those emotions will be a pillar for your marketing and branded content on social media.
Fonts That Match Your Message – And Your Brand
There's more to creating visual content for social media than selecting colors and images.
Like your color scheme, your font is an essential visual element and should reflect your business brand.
Whether you want someone to click through to your website, enter your Facebook Page contest, or visit your store, different fonts within your visual content can help (or hinder) your respective goals.
To successfully communicate your messaging, be aware that different typefaces do different jobs.
If you apply this to your social content, any text overlayed onto your images should match your brand personality for desired effect.
Canva CEO Melanie Perkins highlights this Nike ad as an example:
Your title/heading font should be the largest font in your design and is where you can display the most personality. If you want to use a script font or a handwritten font, your heading is the place to do it. In contrast, your Subtitle font and your Body Font should be easy to read.

Notice how the Nike advertisement above pairs a bold sans serif font with a more playful script font for the "Just do it" tagline.
Need some help pairing fonts?
Check out Typegenius for a great visual tool that provides multiple examples of complementary fonts.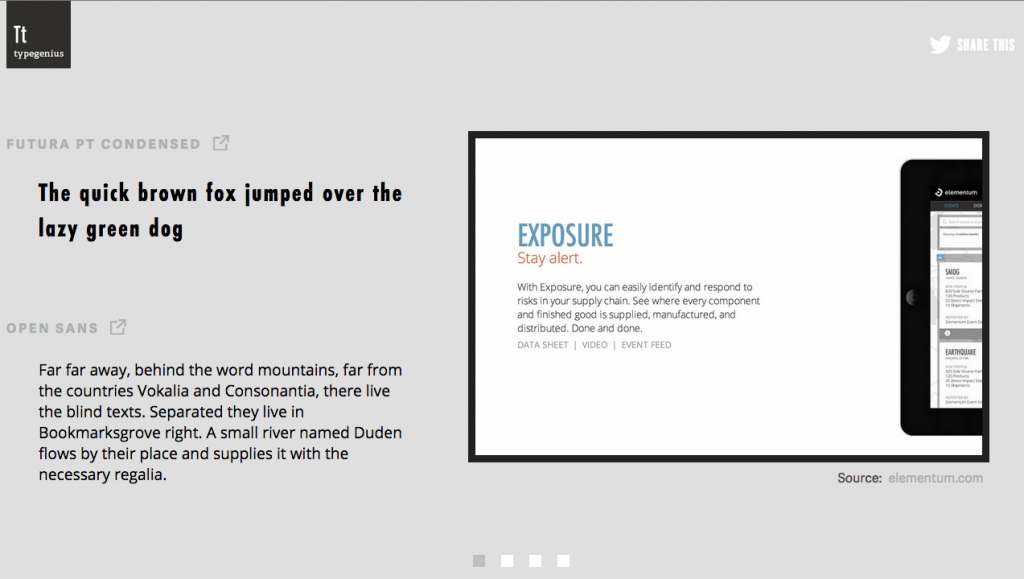 Use Multiple Social Media Templates For Brand Recognition
If you're a business owner, it's highly probable you don't have a lot of time.
The same goes for the social media marketer who is managing multiple business's Facebook accounts.
Creating templates are an efficient and effective way to create branded visual content for social media.
If creating templates sounds like a tedious task, understand it will only prove beneficial for getting quick recognition for your brand on social media.
Kevin Rhodes, a user experience designer for San Diego-based Illumina, recently shared his thoughts on visual design for UX designers with InvisionApp.
Two key take-away's for businesses is this:
1. The power of design patterns is that they reduce memory load through instant recognition
2. Balance your layout – The principle of symmetry says that it's perceptually pleasing to divide objects into an even number of symmetrical parts.
Take this H&M example for a simple and consistent guideline in regards to size and placement of the images and logo.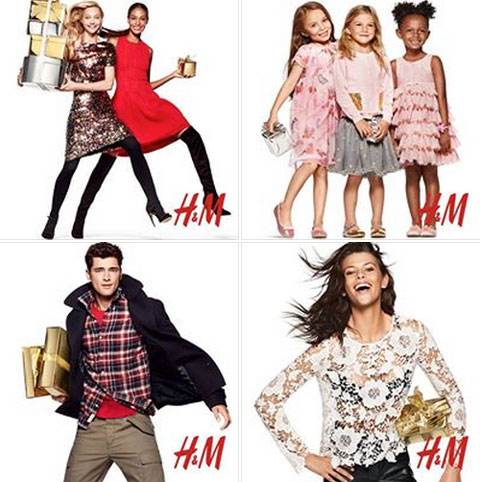 Donna Moritz shared this excellent example of a template for visual content with text overlayed from YTravel:
Template: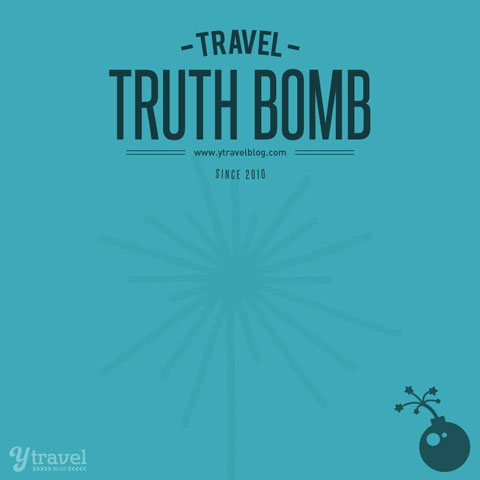 Application: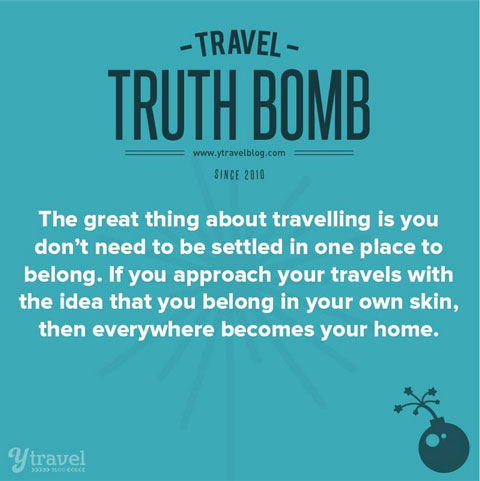 If you're having a difficult time coming up with templates, a good tip from Vox Media is to apply a 3-second rule.
Ask yourself:
"Can the graphic be understood in less than three seconds? If the image takes too long to parse, that might be an indicator that it needs more work."
Pixlr Express is a great – and free – tool for using grids to make balanced visuals.
Canva is also a free and easy-to-use image editor to help you develop eye-catching social media content that fits Facebook and other social network requirements.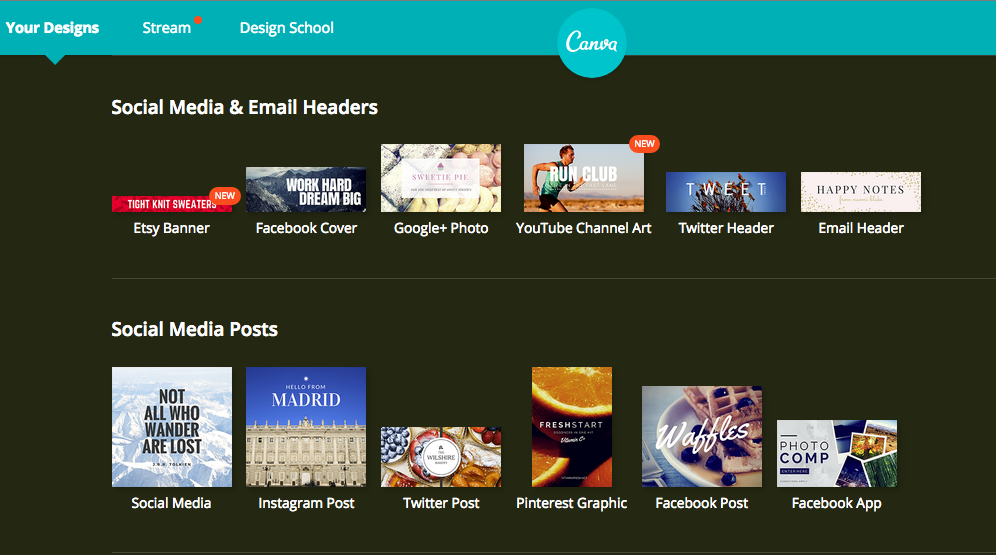 Your templates don't have to be incredibly world-class, but should support your content goals while reflect your brand in order to increase brand recognition.
Remember: Consistency is key.
Make it easier on yourself and your fans by taking the time to create templates for quotes, announcements, sale products, promotions or competitions.
Heed the advice of Paul Biedermann, creative director and owner of re:DESIGN, a boutique agency specializing in strategic design, brand identity, and visual content marketing:
"While these tools can be helpful, I think they work best only after an effective branding/design/visual strategy is firmly in place. That is too often the missing link; as a result, far too many businesses add to the visual noise pollution rather than cut through it."
Don't forget: You can save even more time by using post scheduling tools such as Buffer, SproutSocial, or HootSuite!
23 Visual Content Ideas For Your Facebook Page
There are quite a few resources on visual content brands and businesses have posted on social media.
We've looked at thousands of Facebook Pages here at Vionic. So to help inspire and motivate your business to publish visual content, I've compiled a handy list of examples from real business's Facebook Pages for your reference:
1. Use Your Cover Photo as a Billboard
What do you want people who visit your Facebook Page to see?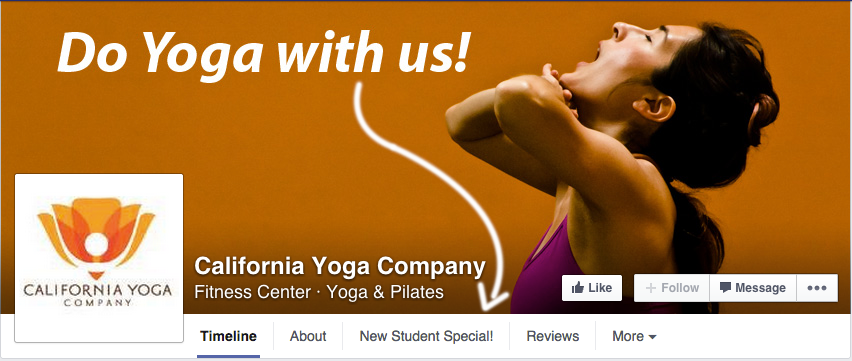 We recommend your exclusive Facebook offer or contest to get fresh faces to immediately engage with your business.
If you want some more creative ideas, Canva has a list of 50 Facebook cover ideas that's worth getting inspiration from!
2. Your Logo As Your Profile Photo
It's standard practice to always have your logo (or a variation of it) as your profile image. Just make sure it complements your Cover Photo!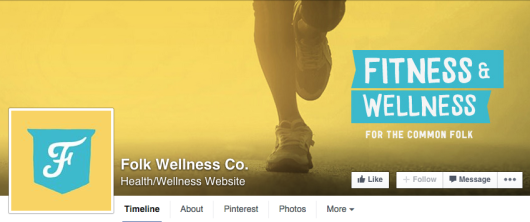 3. Tell Your Story
People can't help hearing a good story – which is something every business has – and social media is the perfect way to visually tell your story.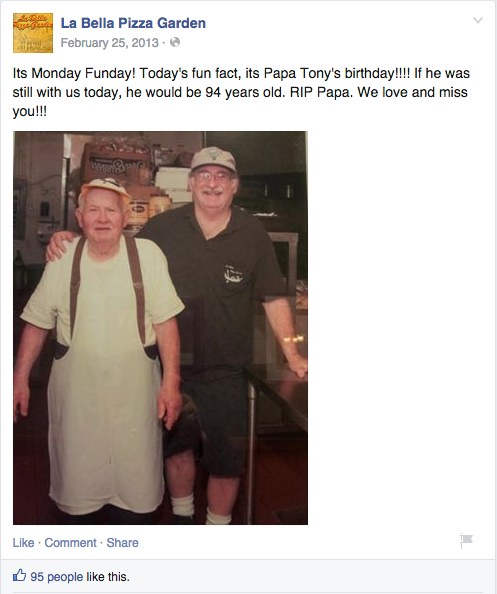 Share a flashback photo of your early days and let fans get to know the people behind your business.
4. Featured Product Shot
Showcasing your product you know customers love is a sure-fire way to get engagement from fans and customers.
It can be as simple as a still image or showing it in action.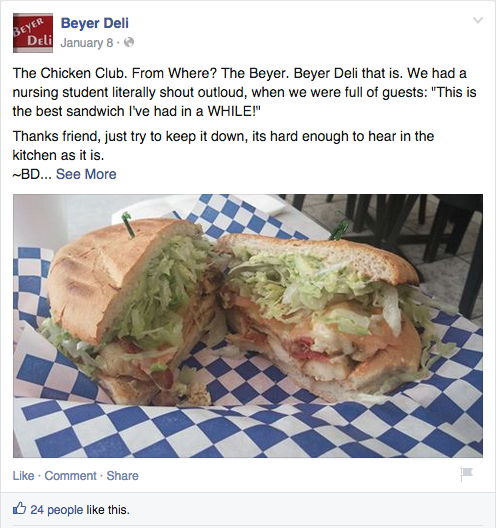 5. New/Returning Products
Your most loyal customers have a much more personal relationship with your business than most.
So when you remove one of their favorite items, they'll never forget!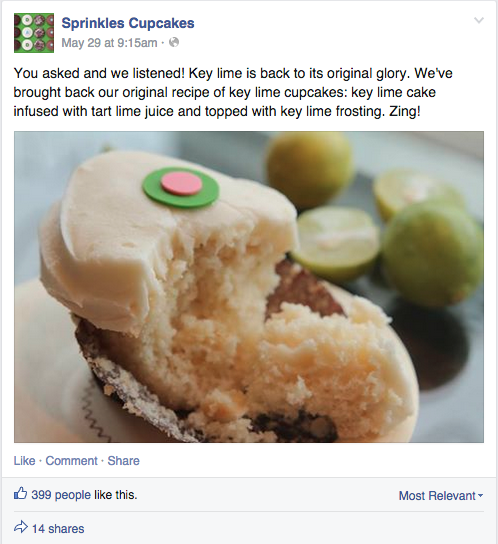 6. Sale Announcements
Announcing a sale or promotion is a great way to reward people for liking your business on Facebook.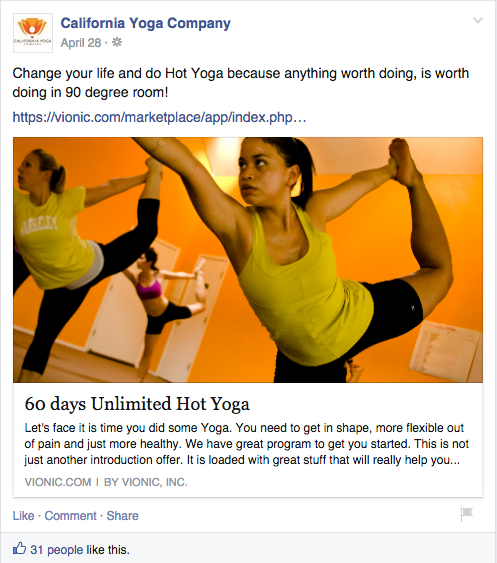 Just be careful not to be overly promotional with your status text or you won't be getting much exposure in News Feeds!
7. Location Photos
Sharing an image in and around your location is enough to spark motivation to walk through your doors again.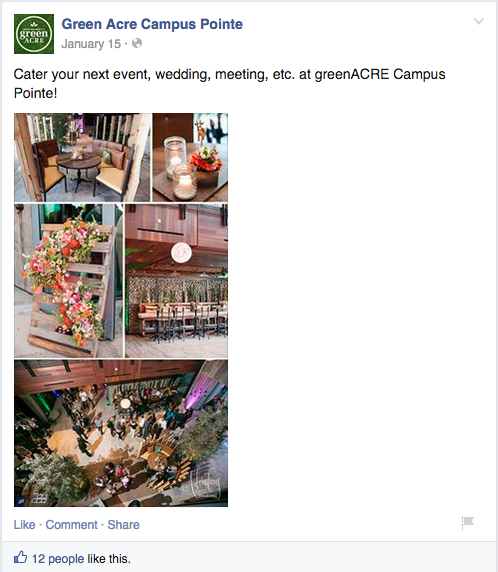 8. Capture Your Tagline
This is a great idea from Keith Quesenberry's SocialMediaExaminer post that many local business's could model their visual content after:
Red Bull's tagline—Gives You Wings—is descriptive and gives you a pretty good idea of what they're going for. But when the company uses photos to reinforce the written tagline, it becomes real and exciting.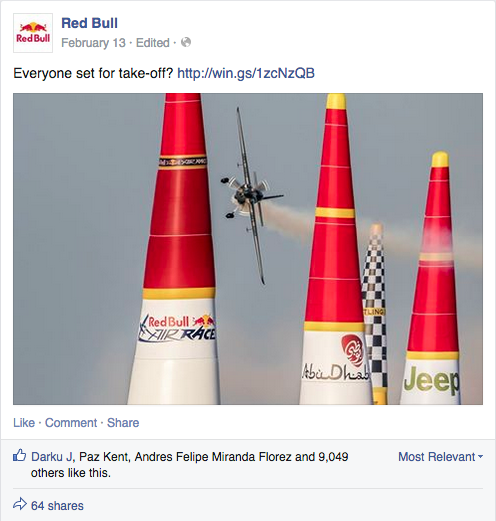 9. Highlight Customers
There's a lot of information about buyer psychology and one aspect that's been proven over and over is the influence of social proof.
Part of this Unbounce infographic illustrates it nicely.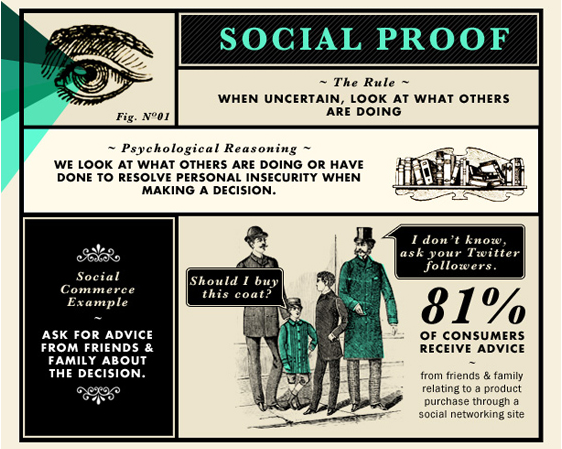 By sharing posts of real-life happy and satisfied customers, interested consumers will be more inclined to buy as they imagine themselves already enjoying their purchase: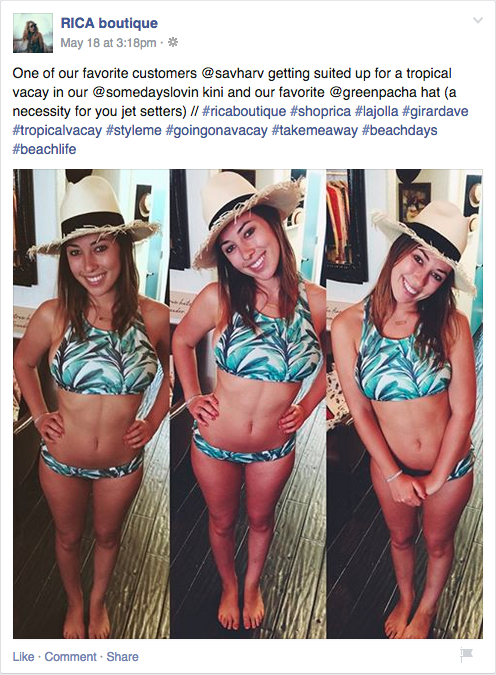 10. Highlight Employees
Don't just shine a light on your customers, shine some on your employees, too!
11. Fan Photos
Posting photos of customers is great, but fan-generated photos leverage stronger social proof.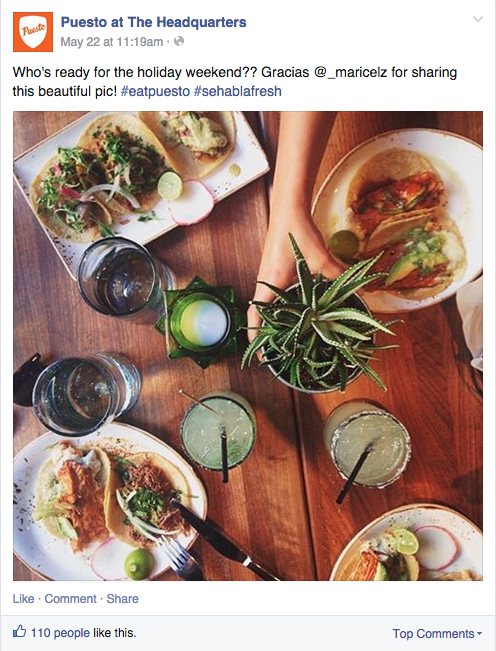 A great way to curate photos is by running a customized Facebook photo contest.
Have fans take creative photos with your product and enter to win a discount on their next in-store purchase. The photo with the most votes wins and can be displayed across your online channels – just be sure to receive their permission, of course.
12. Achievements & Milestones
Facebook has a native milestone feature to share meaningful moments. This makes for a fun opportunity to highlight significant events.
L.L. Bean's Facebook Page takes full advantage of it by filling in historical events within the company with photos.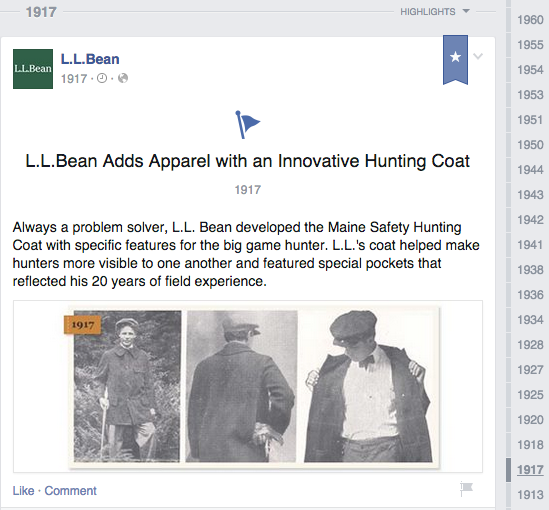 13. In-Store Events
I've shown you how hosting in-store events can amplify your marketing by getting people to talk about your business.
Marketing in-store events using visual content on Facebook will help get attention and spark interest in attending.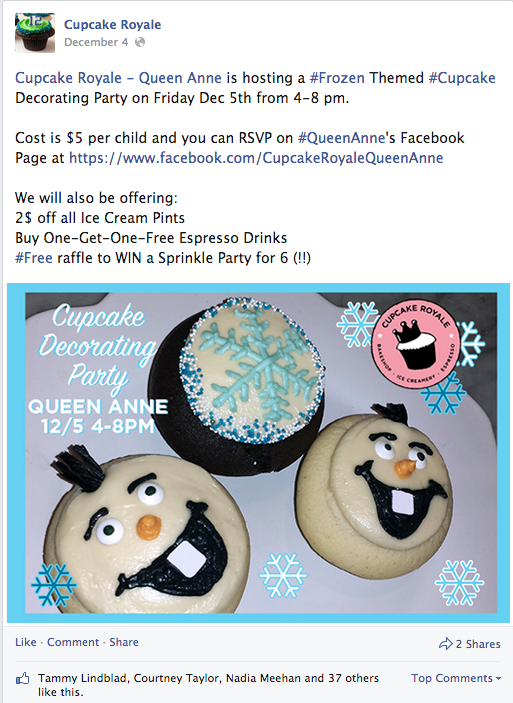 14. Inspirational Quotes
Inspirational quotes do really well online. Just take a look at Kim Garst's Facebook Page for proof.
People are always receptive to a motivational spirit boost.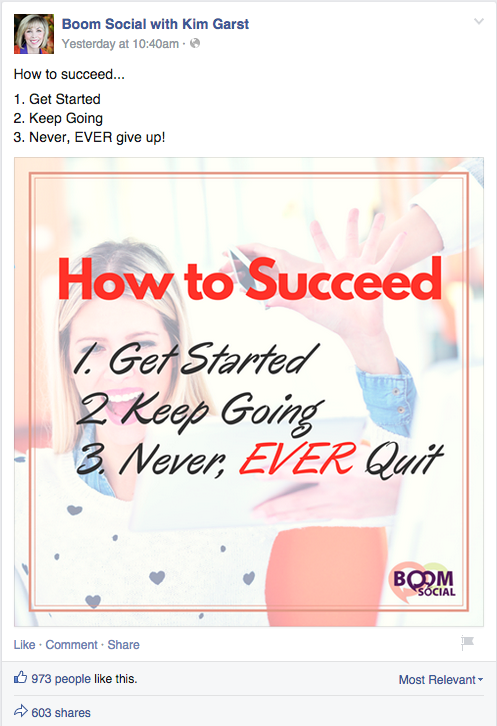 15. Spread Some Humor
People go on Facebook to connect with friends, family, and the things they love.
They also go on Facebook to be entertained.
Why not showcase your personality and have some fun with your fans in a way that's on-brand?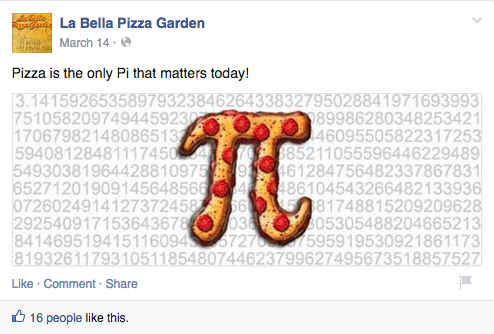 16. Share Interesting Facts
Who doesn't enjoy a #FunFact?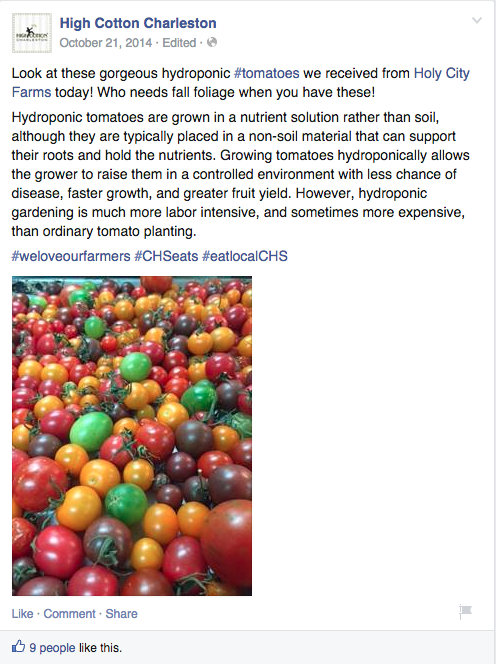 Share some bite-sized information your target audience will find interesting!
17. #Hashtag Campaigns
When done right, #hashtag campaigns can allow your business to carve out a niche audience and gain support.
Coca-Cola has become as master at content marketing and this Facebook post is a great example: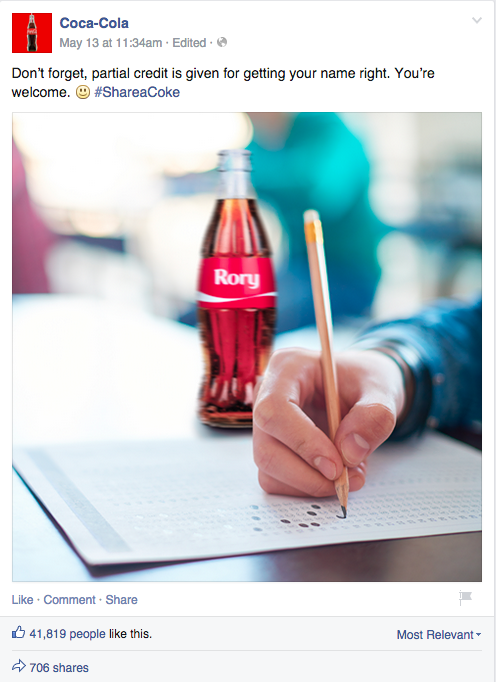 ProTip: Partner with another local business and cross promote your brands to each other's audience with a #hashtag campaign.
18. Create a Series of Posts
Repetition is a powerful tool for learning and lends itself well to brand recognition.
19. Holiday Post
Did you know there's a holiday for every day of the year?
While some of them are a bit of novelty, you shouldn't miss the opportunity to share creative visuals for the major holidays.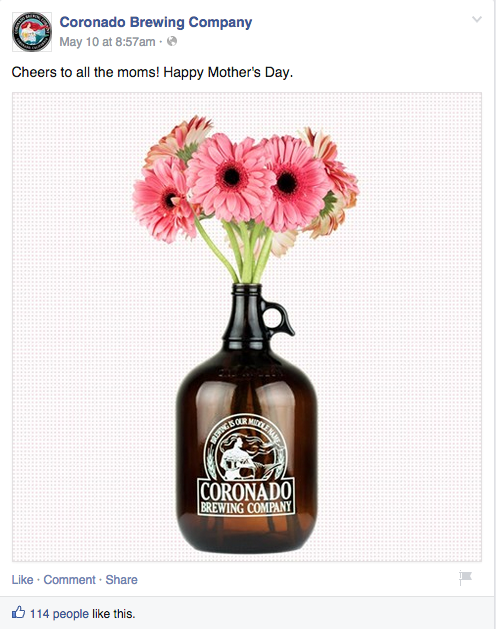 20. Seasonal
The beginning of every season offers your business a chance to promote your seasonal products.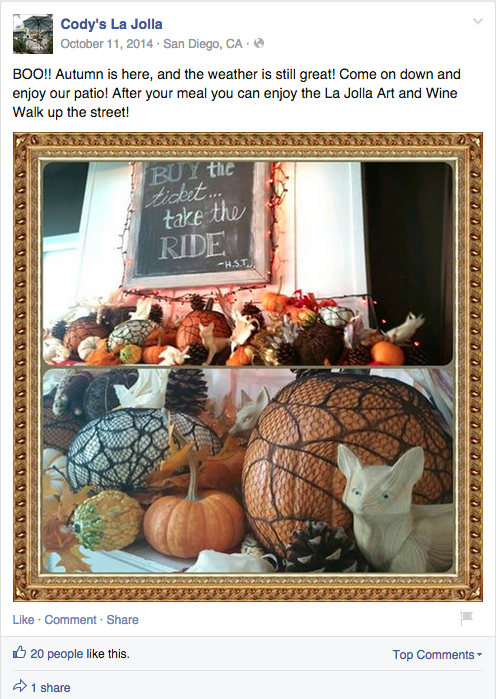 21. Current Events
Manny vs. Pacquiao was a national sensation that had people divided in support for their favorite boxer.
Sprinkles Cupcakes' photo helped their business weigh in.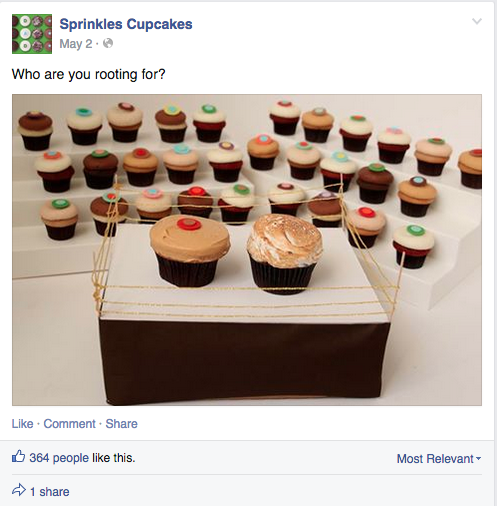 22. Local Events
Attending a local events around your community? Promote it!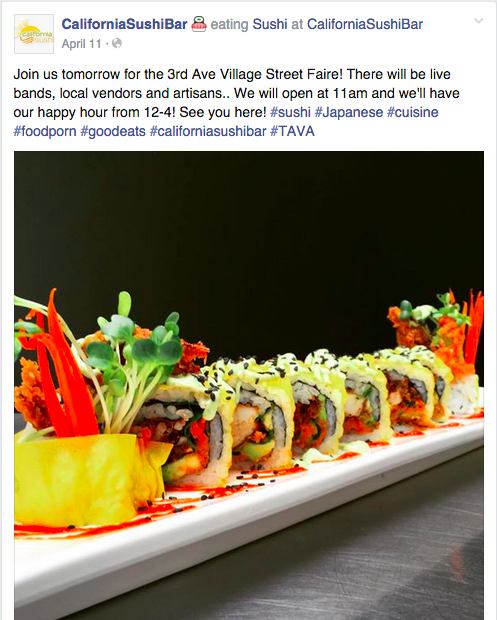 23. Announce You're Hiring
There's over a billion people on Facebook, which means you have a pretty good chance of finding your next employee.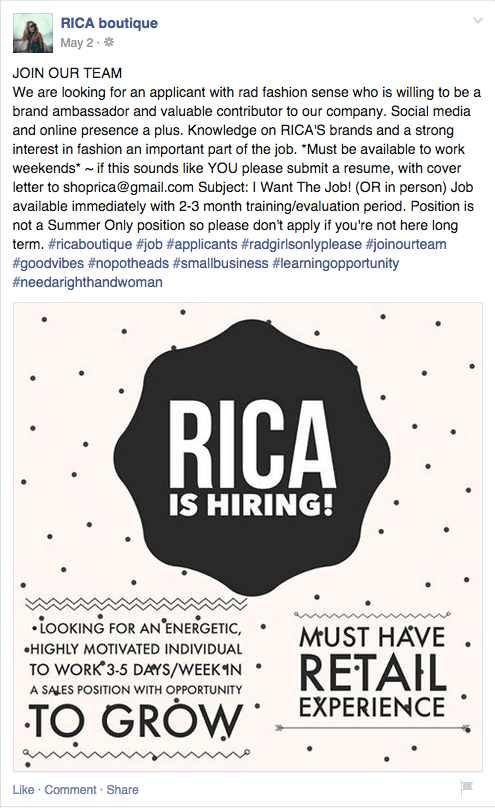 Bonus Tip: Use Facebook Carousel Ads to Increase Click-through Rates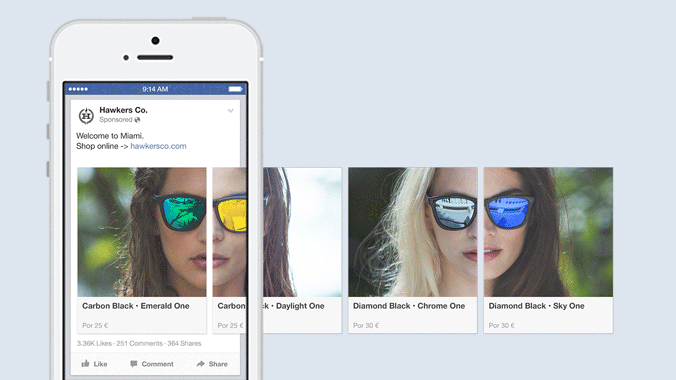 Supporting up to 5 images with links, the carousel format is interactive, attention-grabbing and helpful for both direct response and brand awareness marketing.
According to Facebook, the carousel format drove 3X more conversions and 85% better click-through rates for Neiman Marcus.
Take what you've learned about visual content to increase the performance of your advertising goals!
(Images via Wikipedia, QuickSprout, Hubspot, Buzzsumo, WebFX, SocialMediaExaminer, VoxMedia, Canva, InvisionApp and Facebook)