Type the term how to get more likes on Facebook and you will get about 406,000,000 results. And that is while I have my anti-virus safe search on.
Out of those 4+ million results, I would say that at least 2 million (probably more) are absolute rubbish.
They will tell you to
just to get some Facebook users to push that little blue thumbs up button. And to be honest, likes are wonderful, but if those Facebook users are not engaged with you, your page and that post, is that 1 like really doing you much good?
But asking how to get more likes on Facebook does tell me you are actively seeking to draw page and post engagement which will lead to prospects, leads and sales. And when people do see likes, they are naturally curious. That is what you want because curiosity must look closer.
So, you found one of the pages out of the over 4 million that will provide you with accurate information on how to get more likes on Facebook.
Good for you! Facebook likes are our specialty.
So I suggest you take notes, give us some feedback at the end and press that Facebook like button for this post. Because you are about to get a humongous amount of tips to get that blue thumbs up.
I will explain tips on getting both page and post likes.
Tip #1: Set Goals
You have to have something to measure. The only way to do so is by having goals. How many page likes do you want to get in 1 week, 1 month, 6 months, etc…
Set reachable goals and break them down into daily goals. If you want to increase your Facebook likes by 40 in 1 week, you should shoot for 7 likes per day.
Tip #2: Create Amazing Content
If your content is absolutely amazing it will be:
Educational

Humorous

Debatable

Motivational

Etc
People will be more apt to push the Facebook like button and share it with their friends and family who will in turn, push that like button.
And as you post more marvelous content on a consistent basis, these Facebook users will like your page because they will want your content "flashing" on their feed.
This is by far, the top way on how to get more likes on Facebook.
Tip #3: Embed Your Facebook Posts
Did you know you can embed your favorite Facebook posts on your website?
By doing this, you can reach a wider audience and get more likes.
Just go to the post and click the drop down menu in the upper right-hand corner. Click see more options and then click embed post. Just copy the code and embed it where you want on your site.
This can be a great newsletter item and you will be amazed as to the huge number of likes you will get from people who normally would not have seen your post.
Tip #4: Post Images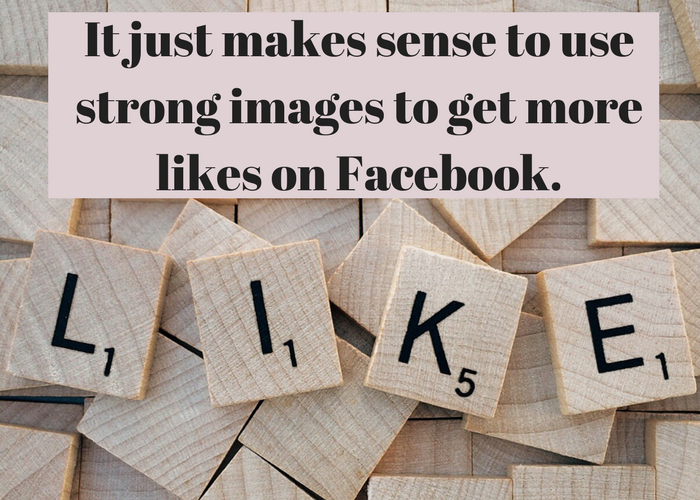 Photos with your Facebook posts are proven to draw more likes and better engagement.
One study showed that Facebook image posts
Get 53% more likes

Get 104% more comments

and they get 84% more click-throughs
It just makes sense to ustrongong images to get more likes on Facebook.
Tip #5: Engage With Similar Niche Businesses
By commenting and liking posts from other businesses in the same, or similar niche, those people who also see that post you commented on will likely visit your business page. Just make sure you are commenting from your business page and not your personal Facebook account.
Tip #6: Consistently Update And Improve Your Business Page
There was a day when the first place consumers would search out businesses, they would use Google. The growth of Facebook has now enticed consumers to first search businesses on the social site.
When your Facebook business page pops up, what will their first impression be?
You want to ensure that potential customers will be able to get all the information they need from your business page.
I suggest you
Fill out everything in the about page.

Make sure to use high-quality photos for your cover and profile picture. Ensure they are integrated with your brand.

Consistently audit your page and make revisions.
Remember that first impressions count… If you give a good first impression, visitors will have no issue with liking your Facebook business page.
Tip #7: Post At Optimal Times And On A Consistent Basis
I recommend that you set a planned schedule for posting on Facebook. Your followers will come to expect posts on certain days and times. It is wise to post at least 3 days per week, but many marketers find that 1 post per day is best.
As for the time of day to post, much of that depends on your business, location and the locations of the majority of your followers.
Keep in mind that most people enter Facebook in the morning 7 AM – 9 AM or later in the afternoon 3 PM – 5 PM. That would be their time zone, not yours.
To find the best times to post, you may want to run tests and see what times draw the most attention.
Tip #8: Short Is Best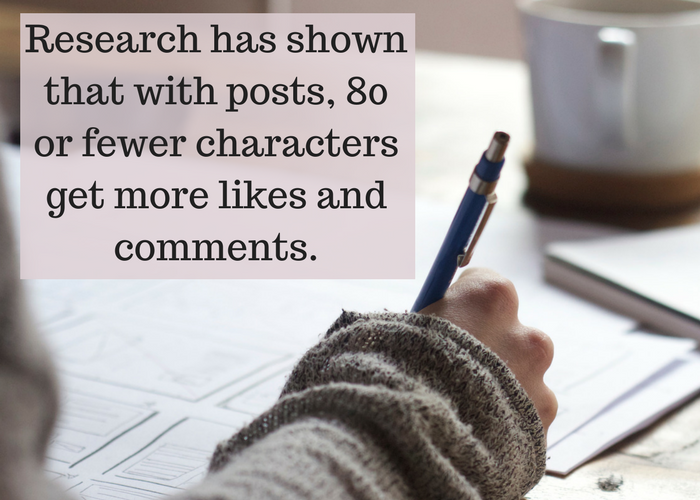 I like to say that Twitter caused this attribute.
Research has shown that with posts from business pages, 80 or less characters get more likes and comments. The studies showed the engagement with these shorter posts is 66% better.
While long blog posts (1,800 – 2,000 words) are best, short Facebook posts are best.
Tip #9: Contests
Running a simple contest that requires people to push Facebook like can result in a mass Facebook like an explosion for your business.
People love contests and will hit like for the chance to win even the most simplistic item.
Many businesses have discovered they can get a "double-dose" of marketing juice from this method.
How?
They run a contest where a certain number of T-shirts are going to be given to people who like the business page. The T-shirt has the logo of the company brand and a see us on Facebook with the company name.
So when the winners receive their T-shirts, they are advertising your business Facebook page when they wear it.
I just have to tell you that Vionic has perfected contests and sweepstakes to bring you Facebook likes and ultimately, revenue. Click here and see how.
Tip #10: Be Human; Be Real
Here is the area where many businesses slip…
So a person comments on your business page post, but no one answers.
No matter how big or busy your business is, that person expects acknowledgment with at least a Facebook like from you for their comment. But it is even much better if you at least give a brief response to their comment.
Don't neglect this important aspect. Remember that people who have pushed Facebook like can push it again which makes it an unlike.
Tip #11: CTA
Include a CTA in your post. CTA stands for call to action and if you ask people to do something within your Facebook post, many will!
Some examples:
Check out this post.

Please share this.

Did you like this? Let us know by pushing like.

Tell us your thoughts.

And while I am on this subject, be sure and share this post with your Facebook friends. The buttons are at the end.
Tip #12: Use An 80/20 Rule
Now it does really depend on your business but for the biggest part, businesses have found that the 80/20 rule works the best on Facebook posts.
Post 80% non-promotional content and 20% promotional content.
It works and you will discover more Facebook users liking your page.
Tip #13: Short Video
Short videos on Facebook have become a top source of likes.
What is so cool is that the video will play automatically in users news feeds.
Just make sure that your video is superior quality and speaks to users emotions in one form or another.
I also suggest that you only post videos occasionally. Use them as a "bonus" form of content which will have Facebook users looking forward to them.
Tip #14: Create Infographics
In a similar way to images, infographics have become highly popular. And Facebook users normally will not see the complete infographic, they will often click-through to see more.
Infographics do seem to get a lot of Facebook likes if they are well-designed.
Tip #15: Link From Your Personal Page To Your Business Page
On your personal Facebook page in the about section, under your place of employment, link to your Facebook business page.
It amazes me that entrepreneurs do not use this method. This can attract many likes your business page would never have received, but now Facebook users can see a real person in the business.
Tip #16: With Facebook Ads
While there is some investment, Facebook ads can generate massive likes. Statistics show that desktop click-through rates are 8 times higher and mobile rates 9 times higher.
You can use Facebook ads to get likes by:
Promoting your Facebook business page. You can target demographics, location, interests, connections and more.
Boosting posts. This takes advantage of targeting and can quickly turn 500 likes into 4,000 likes. Facebook even provides estimates on potential reach depending on your budget.
Tip #17: Offer Exclusive Discounts For Facebook Users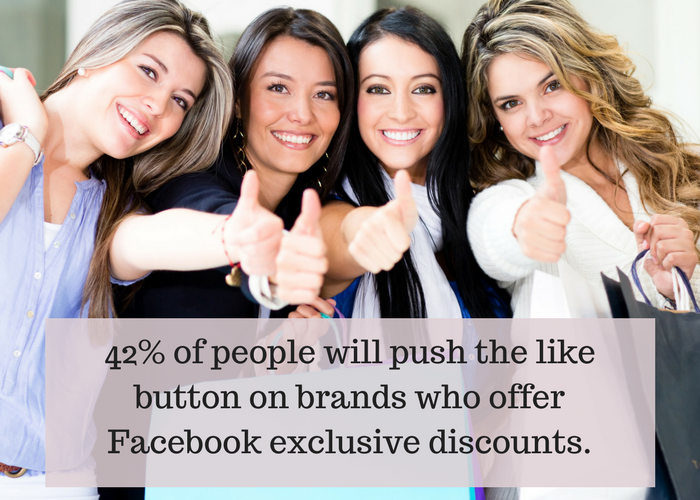 If you want a top-notch method of getting massive likes to your brand page, just offer special discounts for Facebook users.
One study showed that 42% of people will push the like button on brands who offer Facebook exclusive discounts. They know that discounts will show in their news feed and the only way to have that happen is by liking the business page.
This is another huge strategy we use here at Vionic for our clients and testimonials have shown great results.
Tip #18: Have A "Like Us On Facebook" Button In A Highly Visible Area Of Your Website
This should be common knowledge, but I do find some businesses not implementing it.
It is simple… Just link the button directly to your business Facebook page and watch the likes grow.
Conclusion
I know if you start implementing even some of these Facebook like strategies, you WILL see an improvement in likes.
And we can help you even more: we would like to GIVE YOU this Ultimate 10 Step Guide To Tripling Sales Using Facebook. Just click and fill out your name and email and it will be promptly delivered. (popup appears on exit attempt)
You see, at Vionic we are in the business of helping businesses turn their Facebook into a ringing cash register. Are you ready to have your cash register ringing? Click here to get started.
Can I ask you one small favor?
Please click the share buttons below and help other businesses use Facebook to its full potential.
Thank you.