When you see negative reviews on Facebook for a small business page, what is your first reaction?
Do you immediately leave the small business Facebook page?

Or possibly you scroll further to see if there are more negative reviews?
If we were to poll many Facebook users, usually if many see a negative review on a business Facebook page they will be immediately wary of that business.
It would take major trust building methods to turn that Facebook user around to purchase from that business.
The thing is all businesses will, at some point, receive a negative review. You cannot please everyone. Not to mention that there are some people in this world that have a negative outlook on everything.
But do you just accept their negative comments or reviews without defending your business, your employees and yourself?
NO!
But, there are different ways to handle various comments and negative reviews on Facebook. You need to be aware on the various methods and strategies.
Here are some statistics on Facebook reviews:
33% of customers will post online following a bad experience with a business.

88% of consumers read online reviews to determine local business quality.

87% of people state that a business must have no less than a 3 star rating to gain their purchasing power.

52% of consumers expect an answer of an online review within 7 days.

65% of consumers are more loyal when a brand responds to online reviews whether negative or positive.
So negative reviews on Facebook can kill your business. But, only if managed improperly. Let's look at what you can do about those negative reviews.
Tip

#1: Do Not Ignore Any Reviews
This is the most important piece of advice you will receive in this post. All reviews positive and negative must not be ignored.
When you ignore reviews and comments you will lose the trust and respect of current and potential customers.
So you need to have a system in place where your Facebook business page is monitored on a consistent basis so you do not let any comments or reviews get missed or ignored.
Tip #2: Respond With Courtesy And Respect

No matter if a negative review on your Facebook business page seems fair or not, reacting properly is a key component.
The review may seem harsh and unfair, and there is the possibility it is. But you will only damage your business reputation by attacking back with harsh words.
The first order of business is to offer a heartfelt apology.

Put yourself in the shoes of the customer and attempt to understand why they are upset.

Always ask the date they purchased the product or service, and if it was done online or at a brick and mortar location. (this can help determine if the person is leaving a "fake" review)

Offer a way to mend the situation if you see a possible way to do so.
By using the advice given above, other people that see the post will know that you are willing to admit and fix mistakes.
Most people know that mistakes do happen. They just want to know a business is willing to fix those mistakes.
Also, you may incur a loss in fixing the mistake, but keep in mind that a loss in that circumstance may lead to higher revenues in the future when Facebook users see you are fair and trustworthy.
Tip #3: Do Not Include The Business Name Or Location In Your Reply
While it may seem like you should say something like, "As the owner of (business name) located at _____, I want to sincerely apologize for your experience…..," it is not a good idea to include the business name or location.
Why?
Search engines will pick up on that and the negative review could jump to the first page, or even worse, the top of search results.
Use the same approach without putting your business name or location and you will cut down the odds of that negative Facebook review being the first thing found in search results.
Tip #4: Do Your Best To Move The Conversation Away From Facebook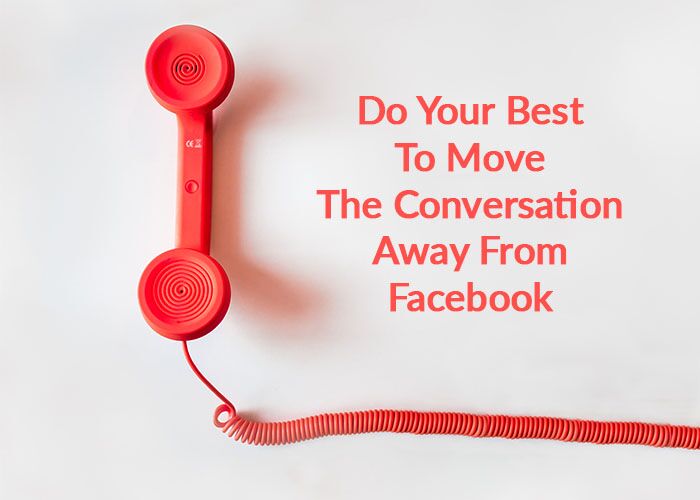 It is always wise business to try and stop the conversation from turning into a long and drawn out Facebook frenzy.
You would be smart to simply apologize for the error and that you would like to know more and solve the problem. But do so away from Facebook so that review will not turn into a viral chaos.
Here is an example of the best way to do this:
"Mr/Mrs ____, we deeply regret that you had this experience. We would like to know more and would also like to offer amends to rectify the issue you had. Could you please call us at # (ensure this is a phone they will not be on hold for a long period of time) or email us at _______. We value your business and want to ensure this issue never happens again. We look forward to your call.
Not only are you showing other potential customers you are adamant about solving problems, you are getting the action off your Facebook business page feed.
Tip #5: Put Weight On Positive Reviews
As a small business owner, you should be actively seeking positive reviews on your Facebook business page.
When you receive positive reviews, you should try to send make viral. These are not reviews you want to take away from Facebook. It helps to continue to comment on posts with positive reviews.
You see, the way Facebook works is, it gives more attention to reviews that are getting the most interaction.
So when you get a positive review, share it… Share it on other social media pages and invite other people to interact.
With weight put on positive reviews, they will overtake any negative reviews.
Tip #6: Post A Facebook Business Page Comment Policy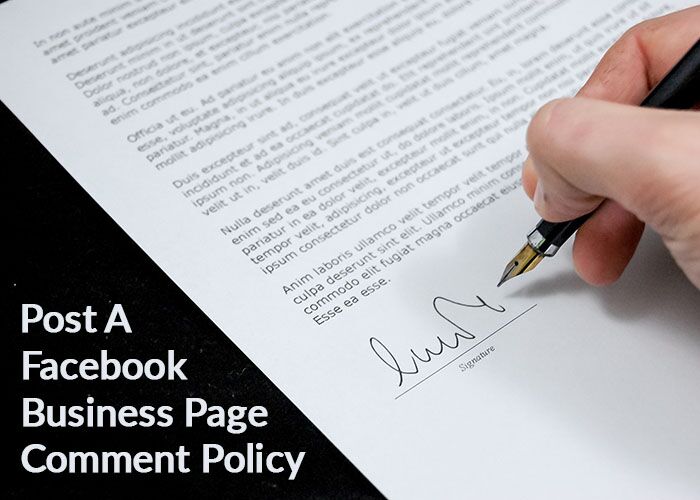 To show your professionalism, you should have a Facebook comment policy posted so all can see it easily.
By doing so, you will give your business more leverage in deleting outlandish or even fake negative reviews.
Here is an example of a Facebook business page comment policy:
(Business name) welcomes your comments on our Facebook page.
Our goal is to inform and educate fans, followers, friends and family on (Business name) and the products/services we offer.
We encourage your comments, questions, and concerns, but please note this is a moderated online discussion site and not a public forum.
Please note that (Business name) reserves the right to delete comments that:
Contain spam, advertising, solicitations or include links to other sites;
Are clearly off topic or disruptive;
Are obscene, vulgar, or sexually explicit. This includes masked words (***), acronyms, and abbreviations;
Are chain letters, pyramid schemes, or fraudulent or deceptive messages;
Promote particular services, products, or political organizations or campaigns;
Infringe on copyrights or trademarks;
Advocate illegal activity;
Violate any policies of (Business name).
Comments expressed on this site do not reflect the opinions and official position of (Business name).
Just having this policy will cut down on the chance of people talking "trash" on your Facebook business page.
Tip #7: Use Google Alerts
Keep in mind that some people may not post their negative review directly on your Facebook business page; they may post about your business on their page or on another social media network.
It is difficult to respond to a negative review if you do not know it is online.
There is a tool that will allow you to keep track of what is said online about your business or your brand.
Sign up for Google Alerts and have the system alert you whenever your brand or your business is mentioned anywhere online.
Tip #8: Dealing With Fake, Spam Or Vulgar Reviews
Bullies are everywhere and that does not put an exception to small businesses.
There are cases where certain people may not like the type of business you have or they just dislike you or an employee. While their tactics are immoral, unethical and downright wrong, we do live in a country that allows free speech… to a certain extent!
If you discover a negative review on your Facebook business page and it is obvious the person never purchased and are leaving a review that is completely fake, contains vulgarities or spam, you do have some recourse.
We suggest you do not even respond and immediately report the review to Facebook.
How do you do this?
Go to the review and click the menu arrow in the upper right corner. Click the "report post" tab and follow all the instructions.
Now it is completely up to Facebook. Sometimes they will not remove those reviews, so it is then your duty to go ahead and respond in a courteous, but strong manner.
You should ask when they purchased and why they are responding in such a way. Ask politely what recourse they feel your business should take to mend the situation.
In many cases, these people will not respond back and they will be showing other potential customers that they were just trying to harm your business. The majority of potential customers will see your attempt to fix any errors your business may have made with no response from the supposed "victim."
And then go back to advice #5… Put weight on positive reviews to detract from that negative one.
Tip

#9: You Can Completely Disable Facebook Reviews
As a last resort, you do have the ability to completely disable reviews on your Facebook business page. Keep in mind that when you do so, all reviews will be hidden from view, positive and negative.
In doing this, we recommend that you ask for reviews at your small business website where you can have more control over negative reviews that are fake, spam ridden or contain vulgarities.
To disable reviews on your Facebook business page, follow these steps:

Navigate to the settings tab of your business page.

Under general settings click edit on reviews section.

After clicking edit select the option to "Allow visitors to review this page," or "Disable reviews."

Click save changes after making the selection.
You can always change back, but remember that all the old reviews will then be visible.
After You Have Mended The Issue With An Unhappy Customer
If you have successfully fixed the issue a customer was having, there is nothing wrong with politely asking he/she to either remove the review or post how they have been satisfactorily awarded compensation.
Most people will remove the negative review if you treat them with respect.
Conclusion
It is important that you do not lose your "cool" if you suddenly see a negative review. Think your response through before commenting.
We know that if you follow the tips above, you will not allow negative reviews to have the power to destroy your business.
They work!
And do know that Vionic can help grow your small business even further on Facebook. See how here.
One last thing, click to get the free ebook we are offering… The Ultimate 10 Step Guide To Tripling Sales Using Facebook.
Thank you for visiting and if you have any questions, just post them below.