Your privacy is important to Vionic Inc., ("Vionic").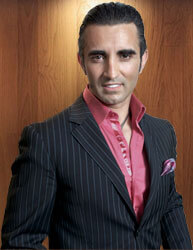 Hello there. We understand people don't usually read these legal documents, but since you're already here, we'd like to thank you and let you know your privacy and security are our highest priorities at Vionic. Please be informed, we do not sell your personal information to third parties, for any reason.
We also try to request only the least amount of information needed in order to notify you about your deals and promotions. Below you will find how we use the information you provide, as clearly as we can, but if anything is confusing or you find yourself in question, please feel free to email me personally at [email protected] I look forward to hearing from you, and as well helping your business monetize on social media.
Kosta Gara
Founder & CEO
Vionic, Inc.
This privacy policy ("Policy") explains the accepted privacy practices of Vionic, Inc. ("Vionic", "we", "us" or "our") for (i) our Vionic website (the "Website"); (ii) any Vionic mobile software application that we license (each an "App"); and (iii) the software which we make available to our users via the Website and/or App (the "Service"), and describes the ways we collect and use your Personal Information (defined below) and the rights and options available to you with respect this information.
This Policy is incorporated into, as applicable, Vionic's Website Terms of Use (the "Terms of Use"). Unless the Website, App or Service is separately referred to in this Policy, all references herein to the "Services" shall include the Website, the App and the Service.
We reserve the right, at our discretion, to change this Privacy Policy at any time. You agree to be bound by any of the changes made in the terms of this Policy. Continuing to use the Services after any changes to this Policy are posted will indicate your acceptance of the amended terms. If you do not agree with any of the amended terms, you must avoid any further use of the Services.
Personal Information that you provide. While some areas of the Services may not require registration or any other form of identification, other parts may. Consequently, when you register with Vionic, we may ask you to provide certain personal details such as your name, e-mail address, and to connect via Facebook "Personal Information" means any information that may be used, either alone or in combination with other information, to personally identify an individual, including, but not limited to, a first and last name, a personal profile, an email address, or other contact information.
What do we do with your personally identifiable information? Your privacy is our priority. We will not sell, trade or lease your personally identifiable information. We may use your personally identifiable information for the following purposes only:

to enable you to use the Services;
to improve and customize your experience on the Website and/or App;
to provide you with support
to send you Services-related updates, notices and announcements;
to provide you with information related to the Services;
to enforce Vionic's Terms of Use
to contact you regarding service and administration related issues as and when Vionic believes it to be necessary;
to comply with any applicable law and assist law enforcement agencies under any applicable law, when Vionic has good faith to believe that Vionic's cooperation with the law enforcement agencies is legally mandated or meets the applicable legal standards;
to prevent fraud, misappropriation, infringements, identity theft and other illegal activities and misuse of the Services;
to take any action in any case of dispute, or legal proceeding of any kind between you and Vionic, or between you and any other third parties or users with respect to, or in relation with the Services;

Sharing information with others. We do not sell, rent or lease your personally identifiable information to third parties for any of their marketing purposes.
We may share Personal Information with others in any of the following instances, or subject to your explicit consent:

To operate the Website, App and Service, and their respective services, and to enable you to use them; we will share your Personal Information with third parties to the extent required to operate our Services and to facilitate your use of them.
We may share your information with third parties for analysis purposes in the hopes of better improving our Services;
If we reasonably believe that you have breached Vionic's Terms of Use, or abused your rights to use any of the Services, or performed any act or omission that we reasonably believe to be violating any applicable laws, rules, or regulations. We may share your information in these cases, with law enforcement and other competent authorities and with any third party, as may be required to handle any result of your wrongdoing;
If we are required, or reasonably believe to be required by law to share or disclose your information;
In any case of dispute, or legal proceeding of any kind between you and us or between you and any other third parties and/or users with respect to, or in relation with any of the Services;
In any case where we reasonably believe that sharing information is necessary to prevent imminent harm to an individual or physical damage or damage to property;
If we organize the operation of any of our Services within a different framework, or through another legal structure or entity, or if we are acquired by, or merged into or with another entity, provided however, that those entities agree to be bound by the provisions of this Policy, with respective changes taken into consideration;
We may also share Personal Information with companies or organizations connected, or affiliated with us and/or our Services, such as subsidiaries, affiliates, parent companies, service providers and other partners, with the express provision that their use of such information must comply with this Policy, in order to improve and provide the Services.
We may also store and/or back up your comments (as defined on our Services) through third party storage providers.

Data retention. At all times we may review, retain and disclose any Personal Information as we deem necessary to satisfy any applicable law, regulation, legal process or governmental request. However, by doing so we do not either expressly or impliedly endorse, affirm or in any manner assume any responsibility for such communications.

When your account is terminated, we will delete your Personal Information and discontinue any connection with your Facebook account. Naturally, once disconnected, you will no longer have access to your Vionic account. However, due to periodical backups and safety mechanisms meant for your information protection and for our administrative purposes, certain aggregated data and/or Personal Information from your account may remain in our systems for an indefinite time. We will not knowingly keep this in a way that could identify you. If you have a query about any such Personal Information that we may be storing, please email us at

[email protected]

. Your email should include adequate details of your query.

Cookies and other tracking technologies. We may use cookies with the Services. Cookies are packets of information sent by the Services' servers to your web browser and then sent back by your browser each time you access the Services' servers.

The cookies may contain a variety of information, such as the content of search queries, the Services' pages you have accessed, session durations and IP addresses or mobile device ID.
The Services may use cookies for various purposes, such as to save you the need to re-enter your user name and password each time you log-in, to facilitate the use of the Services, to collect statistical information with respect to the use of the Services, to verify information, to customize the Services to your personal preferences and for information security purposes.
Some of the cookies may expire when your browsing session ends and you exit your browser, however other cookies are saved on your computer's or mobile device's hard drive. If you wish to block the Services' cookies, then please use the help button in your browser, or use the "settings" function in your mobile device, and follow the necessary instructions. However, bear in mind that disabling cookies may complicate or even prevent your use of the Services' or certain features and functions thereof.
In addition, we may make use of web beacons on the Services for user security purposes and in order to improve product service and evaluation. A web beacon is an object that is inserted in an e-mail or web page and is usually invisible to the user. The beacon allows checking that a user has viewed the page or e-mail, allowing us to track user services and website traffic more effectively.
In the case of a security breach, we will send a notification within 72 hours after detection.

Links to Other Sites. The Services may contain links to other sites that are not owned or controlled by us. We are not responsible for the privacy practices of such other sites. Therefore, we encourage you to be aware when you leave our Website or App and to read the privacy statements of each and every website that collects personally identifiable information.
Information Security.
We take great effort in securing your Personal Information and we will do our best to safeguard your information from any wrongdoings, malfunctions, unlawful interceptions or access, or other kinds of abuse and misuse.

We implement a variety of systems, applications and procedures to secure your Personal Information, to minimize the risks of theft, damage, loss of information, or unauthorized access or use of information. Among such security methods is the storing of Personal Information on cloud services, firewalls, encryption codes, authentication procedures and multi layer passwords. Furthermore, we implement employee supervision and prevent unnecessary access to data.
Please keep your Vionic password safe. We strongly advise that you do not share this information with any third parties or leave it exposed. Furthermore, we strongly advise you to change your password from time to time. Please also be aware that certain Personal Information and other information provided by you in connection with your use of the App may be stored on your mobile device (even if we do not collect that information). You are solely responsible for maintaining the security of your mobile device from unauthorized access.

Testimonials. We post customer testimonials on our website which may contain personally identifiable information. We do obtain the customer's consent prior to posting the testimonial to post their name along with their testimonial. If you wish to request that your testimonial be removed you may do so by emailing us at

[email protected]

.
Children's Privacy The Services are not structured to attract individuals under the age of 13. Accordingly, we do not intend to collect Personal Information from anyone we know to be under 13.
Contacting us You may send us requests, responses, questions and complaints with respect to our Privacy Policy and privacy practices by using the Send Feedback form in the App, or by contacting us at

[email protected]

or Vionic Inc. 9255 Towne Centre Dr, Suite 280, San Diego, CA, 92121.